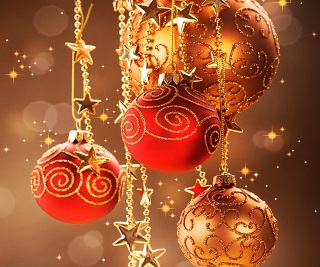 It's nearly time to get the decorations down from the attic and deck the halls. As the festive season gets in full swing, there will be times when you indulge a little too much – but you can still partake in decadent festivities while saving energy and money. Step one is decorating your home wisely, and our handy guide tells you how.
Choosing a tree
If you haven't already, opt for a real tree instead of a plastic one. Find a sustainably sourced tree and recycle it when you take the decorations down. Even better, get a potted tree and water it every day. In the New Year, you can put it outside where it can sit and grow until you need it next year.
Plastic trees are generally imported from China, meaning they leave a large carbon footprint in transportation. Their metal and plastic composition also means they are not biodegradable or recyclable and can omit a lot of carbon in being made. Real trees absorb as much carbon as they grow as they will emit if burnt.
Get creative
You don't have to cover your house in lights to get festive. Reflective tinsel, ribbons, wreaths, garlands and reflective ornaments. You can even go the extra mile by making your own decorations out of recycled and reclaimed materials.
Natural decorations such as holly and mistletoe will give your home a traditional feel and can be composted after Christmas.
Invest in LED lights
Those old incandescent lights you've been putting up for years are terribly inefficient and temperamental, often coming out of the attic with only half of the bulbs working before ending up in landfill. Save a bundle by placing them with LED strings instead, which are brighter, safer and use 70% less energy than your old incandescent fairy lights. They also have no filaments to break and last 10 times longer.
According to the Energy Saving Trust, if all 26 million UK homes swapped one string of standard fairy lights for LED lights, during the 12 days of Christmas alone, collectively they would save enough carbon dioxide to fill 188,000 double-decker buses (over 26,000 tonnes of CO2).
Limit hourly usage
Set timers for your Christmas lights to automatically turn on when it gets dark and off a few hours later. This means you'll never have to remember to turn off the lights or go around the house turning them off one-by-one. Setting timers can also help reduce the risk of fire because it means lights aren't left on.
Check your energy tariff
To make sure you're saving as much as possible on lighting your home for Christmas, as well as heating, it pays off to compare gas and electricity tariffs. Weigh up the benefits of switching to a fixed dual-fuel tariff, which means you can freeze prices for a select period.
Compare gas and electricity prices routinely using price comparison websites before checking with individual suppliers directly. You may find some suppliers don't appear on price comparison websites, or offer more exclusive deals if you shop direct. It's also worth checking whether it's best to go with a Big Six supplier, or a smaller, independent supplier which might be able to give you cheaper deals due to getting energy from wholesale.
Matt Fear is a home improvement guru and general handyman. He blogs regularly on his projects and offers tips, advice and practical guides on making a house a home in the most economic ways possible.