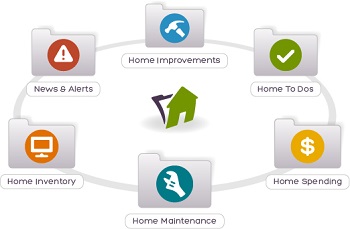 How often do you forget to do a home maintenance task? Whether you own a home, own a condo, rent a house, or rent an apartment, there are many tasks that need to be done all of the time. It is not always easy keeping up with everything that needs to be done. We all have busy lives and hectic schedules, so it is not uncommon for many people to forget or to procrastinate when it comes to home maintenance.
Daily tasks can include making the beds, wiping off counters, doing dishes, emptying the dishwasher, doing a load of laundry, and more. Then weekly tasks can consist of changing linens, cleaning the garbage disposal, mopping, vacuuming, and dusting. Next to keep track of is monthly chores such as cleaning walls and doors, cleaning baseboards, cleaning out the refrigerator, checking fire alarms, changing air filters, cleaning appliances, washing windows, and changing the heater and air conditioner filters.
Last but not least are the yearly tasks which include things like cleaning the carpets, getting the air conditioner unit checked, cleaning screens and blinds, cleaning curtains and light fixtures, pressure washing the driveways or exterior walls, touching up paint, and more!
Those are only some of the home maintenance tasks that you should be completing, so it is obvious to see why it can be overwhelming. Recently, it has become much simpler to keep track of everything that needs to be done to keep your home in tip-top shape, thanks to technology. Smart phones now have fantastic applications that allow you to have customized schedules with reminders and tips to help you stay on track.
Here are five apps that keep track of your home maintenance tasks, so that you can keep your home looking great even with a busy schedule.
HomeZada – This app is available on iPhone, iPad and android. It allows you to keep track of all of your home maintenance and improvement tasks by creating a personalized list that fits your needs. You will receive alerts when it is time to complete a task whether daily, monthly, or yearly. It also will let you take photos of items in your home and will keep an inventory in the app. (www.homezada.com)
BrightNest – This app is also available on iPhone, iPad, and android. BrightNest will keep track of your home maintenance tasks using tips, customized schedules, and reminders. This app offers a list of home tasks that you can add to your list, it will assist you in scheduled maintenance appointments, and home inventory. The best parts are that it is easy to use and free! (www.brightnest.com)
HomeKeeper – This app is available for iPhone and iPad. HomeKeeper will give you over 100 home maintenance tasks to choose from that you can add to your list, or you can create chores. You can add pictures and make a shopping list of products you may need to complete one of your tasks, and it will send you reminders based on the task list you create. (www.iphoneappreview.com/homekeeper)
Home Savvy – This app is for iPhone and iPad. Home Savvy lets you create a home maintenance schedule, will send you alerts when it is time to complete a task, and will even connect you with top-rated service professionals in your area. This application can also take a survey of your home and installations and prepare a personalized automatic schedule for your tasks.(http://itunes.apple.com/us/app/homesavvy)
Home Routines – Available on iPhone and iPad, managers your home chores and tasks. It also allows you to make a list of daily, weekly, monthly, and yearly maintenance tasks that need to be done. The Home Routines app will send you daily messages to help keep you on the right track as well as a tab in the app that will show which items have been completed each day. (www.homeroutines.com)
The writer, Anna Donato, is the do-it-yourself type who always strives to stay on top of her home maintenance tasks and keep everything operational. For air conditioning maintenance tasks she can't handle herself, she pays a visit to www.facemyeracorlando.com or to www.inman.com.