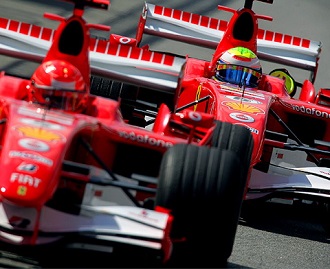 The world of Formula 1 is a fast paced and exciting environment and is one of the most watched racing sports in the world. It has featured popular racers from around the world such as; Michael Schumacher, Mario Andretti and Jim Clark. It has established these careers and many more.
The rise of Lewis Hamilton and Jenson Button has delivered inspiration to those who want to step (or drive in the seat) in the shoes of their aspired heroes. What does it take to become a Formula 1 driver?
The following tips can help guide you towards having a lucrative driving career.
Get experience
Lewis Hamilton started his career as an F1 superstar at a young age as a go-karting champion. You should get involved at an early age by taking up go-karting. It is the best sort of experience for you to start familiarising yourself with driving, adjust yourself to the life of speed and can become the important first steps towards larger vehicles as well as practicing and fine tuning your skills.
Sign up to the FIA
Apply for a licence from the FIA (Federation Internationale de l'Automobile). This is motorsports sanctioning body who oversee the licences for a majority of the world's motor races.  There are other licenses that you can apply for, but they may not be covered under competition racing.
What series?
Decide which series you would want to join. This can be anything from the manufacturer series racing, to the Indycar series. Along with this, you may have to be willing to become a test driver for an F1 team. If you are patient, hone your skills and are willing to learn everything from experienced drivers, you may find yourself eventually driving an F1 car.
Work on fitness
All drivers must go through a period of conditioning themselves to meet the physical demands of the sport. You need to build on your stamina and endurance through intense cardio-vascular training, designed to help the body endure the intensity of the races. Strength is important, especially in the arms where the driver must be able to maintain complete control of the vehicle through the steering.
Be focused
Not only do racers need to work on their physicality, but racing requires maximum concentration from start to finish. Anything can happen in a race and any lapse in concentration can be detrimental, not only to your position but to your health as well. As the world of F1 is fast paced, you need to be aware of the changes around you, while keeping focused on the track.
As mentioned previously, experience can be extremely beneficial. Get involved in racing as much as possible and this can also be done through going to motorsport events which can give you an idea of how exciting this career can be. Find out which races are coming up next and get along to them, you might get a chance to meet your favourite racers, this way you can ask them questions that can also help start your racing career!
By Harry Price
Harry Price is enjoys spending quality-time with his 3 dogs, training for the most extreme marathons and volunteering at his local charities on his time off. He is a technology lover and unashamed texting addict.