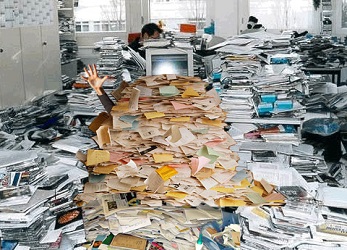 It is not an easy task to prevent your desk from being swamped by the swarms of paperwork. Being disorganised in the office is standard and you might forget what your desk looks like if you let paper work continue to consume it. While it may seem like a difficult task to have it under control, it can be done!
If you don't keep on top of it, you may find yourself searching through piles of paper to find that important document for tomorrow's meeting. So time to grit your teeth and prepare to face the challenge!
– Create piles
Start simple, tackle the paperwork by organising it into piles based on categories. This can be anything from personal records to receipts for business items. This will help in managing each pile easier for storage later (which will be touched on later).
– Be ruthless
Are you one of those people that keeps documents from months ago, worried that you might need them later? You aren't the only one, but in this case, you might need to learn to be stricter when it comes to paperwork. Dispose of anything from the piles that are no longer needed. Financial paperwork should be kept as it can be needed all year around for tax preparation or legal compliances. Meaningless notes, junk mail or items that have been taken care of should be disposed of. Be sure to shred them in case they do include sensitive information and recycle them.
– Invest in a quality filing cabinet
After eliminating the unnecessary paperwork, the next step is to start filing them away. Your office should already have an efficient filing cabinet, if not; you can use envelopes or cardboard boxes to store them away. However, a metal file cabinet looks more professional in an office environment and can allow you to easily order your paperwork alphabetically. Your office stationery supplier can provide a range of cabinet options to suit whatever filing needs you have, from simple boxes to multi-drawer cabinets.
– Cloud storage/Data storage
It isn't just your desk that can get cluttered with paperwork. Your computer can suffer from the effect of being overcrowded with unorganised files. Cloud storage has become a popular means to store files online with the benefit of being able to access them anywhere and at any time, provided you have sufficient internet connection. Some Cloud storage providers such as One Drive and iCloud offer their services for free. You might want to consider scanning paperwork to store either on Cloud storage or on a data stick.
The key to this is applying the same practice of storing physical paperwork to organising them on your computer. Create files with dates of the paperwork to easily locate. For important documents, conduct frequent backups. Like the filing cabinet, your stationery supplier should be able to provide efficient external data storage solutions.
Organising paperwork can be a real hassle, but the first step to clearing your desk (which benefits your mental health!) is by adopting an effective filing system.
Do an annual review of what you've organised to see whether the documents are still in date or still needed, just keep at it and you'll will never have to panic search for that important invoice again!
By Harry Price
Harry Price lives in a small fishing village on the south coast.  Now winter is coming, he loves nothing more than windy walks with his dogs and cosy evenings by his open fire.