A lot of work goes into making an event day a success. Every part of the team has to pull together to make sure that your business is represented in the very best light. But sometimes that doesn't happen. With so many different aspects to consider, it isn't a surprise that sometimes an entire company can turn up for an event and end up wondering who exactly was responsible for bringing the missing projector.
The truth is, these things happen. Small (and sometimes big) details can be mislaid amidst the chaos of preparing the event. And with so much relying on the success of your event, you simply can't afford to see little things slip through the net.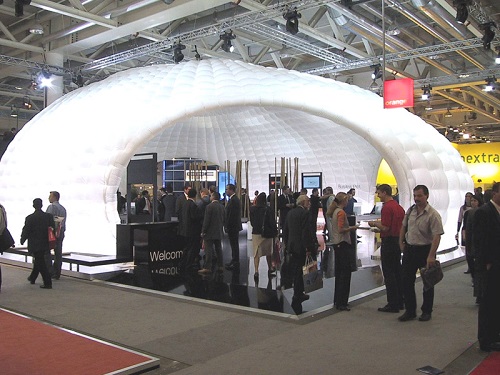 In an attempt to help you, we've put together a small checklist of things to remember before you head out the door for your next exhibition.
Exhibition Basics
Before you do anything else, there are a couple of basic bits and bobs you're going to need to do before anything else. Long before you even get to the show, you need to find out who else is going to be there – will your competitors be there, what sort of audience does the show usually bring in, is it the right exhibition for you? Failing to do the appropriate research from the beginning is the surest way to set out on a mission destined for failure (exhibition marketing experts, Clarity, can tell you more about this).
Once you've done your research, the next step (usually at least six months prior to the event) you need to take is to make sure that you have space booked – make sure that you have all the documentation that you need to go along with this because the last thing you want to do is turn up and have to argue with the organisers about where you're space is.
Modern Trade Show Exhibitions
Whilst exhibitions have always been about showing off what you've got and what you can do for your customer, being good at what you do isn't always enough – you have to be good at marketing too. This is especially important at modern day trade show exhibitions, where more and more technology is used to get the point across.
Most event-goers still use the basic white-boards and basic signage for branding and information, but it's becoming more and more common for companies to show off videos on ultra-modern TV sets and iPads to demonstrate just how forward-thinking they are.
Once you've got your set up ready, you should consider preparing some freebies and handouts that people can take away with them to remind themselves of your product or services.
Being Practical
Having a printer with you at an event gives you the opportunity to save paper, and this goes a long way to showing what kind of company you are. Ecologically friendly companies are, as they should be, all the rage right now. If you show your customers that you don't produce wasteful marketing products, they are far more likely to view you as a practical and efficient outfit.
Events are also quite loud, with many people vying for attention. Because of this, it is also worth considering the possibility of a PA system which will help to make you stand out. If none of your team are familiar with sound equipment it might be beneficial to gain expert advice from the equipment provider.
Next you should map out your logistical plan – who is taking what and how is it being set up (maybe you can even practice the setup in your office if you have some spare space). Make sure everything is packed carefully and is ready to go in the days leading up to the event.
Lastly, you should make sure that you have insurance for the duration of preparation and the show.
Ensuring a Smooth Exhibition
When planning for an event, it is common for things to go wrong (how often does technology fail us when we most need it?) so it is always a wise idea to have a back-up plan, such as renting equipment, just in case something stops working, becomes broken or is seemingly mislaid.
Exhibitions cost a lot of time and money, so it is important that you get them right. Here's a quick checklist to summarise what you need:
Research the event
Book space at the event
Produce marketing materials (if needed)
Hire, or buy, high-quality equipment
Organise the logistics
Purchase insurance
Create a back-up plan
Do a test run
Enjoy the event!
One thing we've omitted so far is the last point on our list. The more you enjoy it (both the preparation and the event itself), the more your customers will enjoy it. Potential buyers will be far more interested in seeing what you do if you look like you're having fun. And it's hard to have fun unless you're prepared for every scenario, so make sure you have everything ready before you set out.
Tom Cook is the Director of the well-established office equipment rental company based in London – Bircherley. Tom has a wealth of knowledge with trade shows, conventions and exhibitions and over the years has built up the skills to ensure that they run smoothly.