When building a property, renovating stonework, or starting on a commercial project, you might have a grand idea of what you want the final results to look like, but breaking this down into the technical jargon can be a challenge.
Of course, a specialist stonemason will be able to give you expert advice and recommend the best types of masonry for your project. However if you want to get to grips with the basics yourself, it's good to understand the distinction between ashlar and rubble masonry to begin with.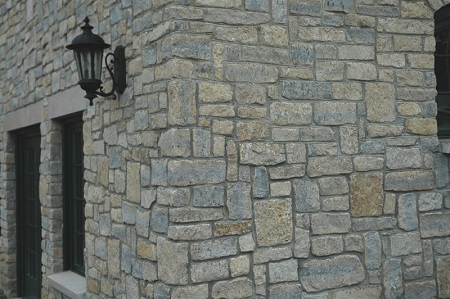 Rubble Masonry
Head into the countryside and look around, and even where there isn't a house to be seen you'll probably find lots of examples of rubble masonry. Dry stone walls are the best example of this kind of stonework, although you may also find it in the stonework of many period buildings in particular. Rubble masonry is a traditional form of building, where rough stones, often of uneven shapes and sizes, and pieced together to form a structure. As much natural stone can be difficult to dress or shape, rubble masonry is a rather rustic form of building that was popular before bricks and more modern methods such as reinforced concrete came about.
Ashlar Masonry
Ashlar masonry, on the other hand, follows a much more uniform and consistent appearance, with stones finely dressed to be the identical shape and size, then fitted together in a precise fashion. Although you will see many examples of this in stately homes, it is relatively costly and time-consuming to do this with natural stone today. However, since the onset of pre-cast stone and modern materials such as GRC, it is possible to replicate this attractive ashlar walling with more affordable materials and building methods. Another way to achieve ashlar walling is to quarry one large slab of material, and then chisel in the appearance of brickwork along the exterior.
Stone Cladding
An increasingly popular alternative to both of these options is to invest in ashlar or natural stone cladding for your property. By choosing a bespoke façade for the building but opting for more affordable building materials and methods for the structure of the property, you can have the same appealing exterior without the time or expense of getting the whole property built like this. A reputable stonemason will complete the project to a high standard, so that you have seamless results that are hardly distinguishable from ashlar masonry itself.
Understanding the options available when investing in construction works, property development or home improvements is important if you are to choose a method suited to your requirements. However any experienced contractor will be able to talk you through your designs, budget and time frame to help you settle on your masonry needs.
With so many methods and materials available, getting to grips with the basics will help you to make an informed decision and understand the complexities that make stone specialists a solid choice for your stonework.
Article written by Kelly Gilmour Grassam, a dedicated follower of fine food, follow her on twitter @KellyGGrassam. Information for article provided by Henley Stone.