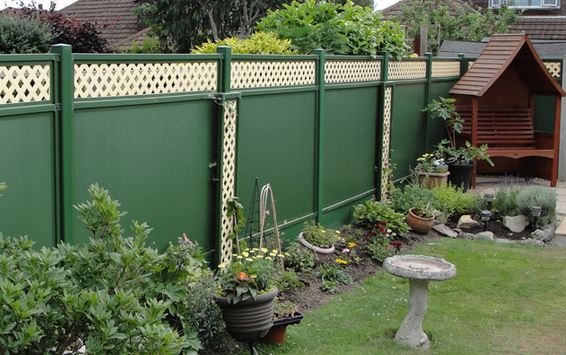 Tip 1: Clean up the garden
During the winter, it is easy to neglect the appearance of the garden by failing to clean up fallen leaves, branches or even dead plants. At the height of summer, a quick snip will remove dead twigs or stems, but in winter it can be much harder to tell live and dead apart. Start by removing all of your annual plants which will not re-grow in the summer and use the place to plant winter-growing flowers and bushes, such as wallflowers and pansies.
Tidy up the borders by removing obviously dead leaves. It is also a good idea if you have a pond, to put nets over the water to catch decomposing leaves. Clean your gutters at the same time to ensure that leaves there don't cause floods. Once you have tidied as much as possible, remove the debris from the garden completely. This prevents animals from nesting in the rotting vegetation and creating a stink.
Tip 2: Add vinyl fencing
At this season, wood and bush fencing in your garden can start looking tired and rotten. If you want to make a change to a new type of fencing, then vinyl is the perfect solution. They are fantastically low maintenance, which means that they don't have to be repainted and cleaned every season. In addition, they are resistant to rotting and corrosion which other fences are likely to suffer from. A quick wipe down with some water in the winter will help to keep the panels looking fresh and will ensure that your garden looks great all year around.
Tip 3: Plant new bushes and trees
Now is the time to start getting your bushes and trees planted ready for the spring. If you have fitted a vinyl fence, you can add to its appearance with a nice line of small evergreen bushes at the bottom of the fence. They are less demanding than other bushes and will help to add a natural look to your garden. They also look cheerful and flourishing even in the worst weather.
Tip 4: Prepare for cold weather
Before the worst of the winter weather sets in, you need to take steps to prepare the ground for winter. If you have any plants which are sensitive to the frost, you need to check that the ground around it is fully protected. Do this by cutting bin liners into flat sheets and then covering the roots and top soil around the plant. Dig the plastic as deeply into the soil as you can so that as much of the ground is protected as possible.
You should also lay plastic sheets over the ground where you plan to do your first planting in the springtime. This will help to keep the ground relatively soft and ensure that it is ready to be dug once the worst of the weather passes. As a plus, plastic sheeting also keeps away weeds by preventing the seeds from growing once the ground thaws.
Tim White is the Founder of Essex based PVC and Vinyl fencing supplier and installer- Hybrid Fencing. Tim loves to attend to his garden throughout the year and finds with these tips, it is made as easy as possible.