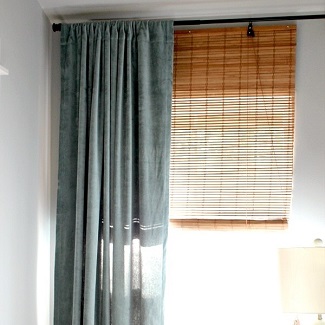 When you decorate your home, it is never an easy task with all the choices that are available out there. Windows are most often the biggest feature in a room, so you will want to ensure that you make the most from their feature by giving them the most adequate and effective window dressings. With windows, you have the option of having either blinds or curtains installed to decorate your window.
Both these options have their advantages and disadvantages, with both giving your room an entirely different look. What window coverings would be better suited for you windows?
Below we have compared both curtains and blinds to give you an idea of their pros and cons:
– Maintenance
Both types of window dressing can be easily cleaned. Curtains do not require as much cleaning apart from treating spills or stains if they occur. You would generally clean them once every 3-4 months (or as needed), which would keep them clean without fading the colour. With blinds, due to the coverings accumulating dust, you would need clean them once a week or once a month.
However, this can be easily done with synthetic duster or feather duster. You would not have to physically remove the blinds to clean the dust as with curtains. Curtains can be easily removed to clean in a washing machine and put back into place.
Though curtains are the easiest to clean, the fabric can fray over time. If any tears or rips occur, you can easily stitch the fabric back together, but can look unpleasant if more tears happen. With blinds, mechanical parts can be easily sought and replaced and the unit can be easily exchanged for a new one, if the need arises.
– Functionality
Both blinds and curtains are designed to control the amount of light entering the room. They can also aid in privacy. Depending on the thickness of the fabric, curtains can perform both duties. As sheer curtains are purely decorative and can allow some light through, they offer nothing in the way of privacy. Thicker fabric can block out the window completely, obscuring light and ensuring privacy. Blinds can perform both functions efficiently. With the twist of a rod (Or string), blinds can completely block out light and give 100% privacy. This is especially efficient for bathrooms or bedrooms.
Another advantage for blinds is that you can control how much light can enter the room with the curvature of the blind slats.
– Safety
When it comes to safety, blinds come out on top. Blind manufacturing companies will design blinds for your house that are completely child safe. Small children can often get tangled up and chock themselves on the string used to lower/raise blinds, so most blinds come with a rod or a string that detaches itself when out under pressure. Curtains can become a fire hazard. If placed near an open flame, they can easily catch light and can cause a fire to spread quickly.
In conclusion, you might want to think about combining both blinds and curtains for your home. Decide on which room would suit a combination more (For example, the living room), as both forms of window dressing have advantages and disadvantages. In the end, it is down to personal preference, both forms can come in a variety of different styles and colours that can suit your home. As mentioned, why not take advantage of both by creating an efficient and effective combination?
By Harry Price
Harry Price is a talent writer who loves playing football for his local team and bass guitar in a local band in his spare time.