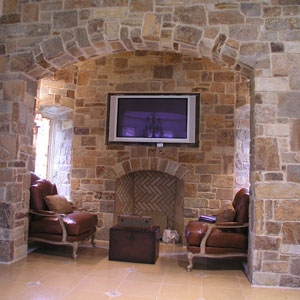 Natural stone is a fantastic finish to any property, be it commercial or residential. However materials such as sandstone, granite and limestone can become weathered and dirty over time, as they deteriorate in appearance and quality when exposed to the elements.
To maintain the exterior of a property, it's important to invest in stone cleaning and treatments every once in a while. When done properly, this should remove any built up dirt, improve the appearance of your stonework, and protect it for years to come.
Why Stone Cleaning is Important
Stone has a tendency to accumulate great qualities of dirt, especially if you live in an urban area or on a main road where pollution levels are high. Getting your stonework cleaned regularly can prevent this from building up, and can help your property, walls or pavement to look bright and fresh, maintaining their appearance. As well as having the stones cleaned, you can also invest in pointing, tinting and treatments that will undo the effects of weathering and aging, to improve the look of your property's exterior even further.
When getting your stones cleaned, you should also select a professional company that has the relevant experience and knowledge, to ensure that you get the right treatment for your requirements. Graffiti removal, for example, involves a very different method to regular dirt removal, whilst certain types of stone will benefit from some methods more than others. From scrubbing and cleaning to chemical and even laser treatments, stone specialists have a wide range of methods at their disposal that make their time and expertise worthwhile.
How to Protect Natural Stone
Natural stone tends to be porous, which means that it absorbs dirt, moisture and the elements that over time will affect the appearance and strength of stonework. However you can take active steps to prevent and delay these processes, by getting your walls or pavements treated with a stone sealer or protective coating. Such coatings can be effective not only against the elements, but vandalism like graffiti too if your property is subject to this problem.
Efflorescence is another problem for some buildings, were minerals and slats come to the surface of the exterior walls, leaving an unsightly deposit that can affect its appearance. Professional cleaning and sealing will help to combat this, leaving your walls looking as good as new. It can also protect them from the onset of efflorescence for a period of time, depending on the nature of the problem and the stonework itself.
Regular treatment of your stonework is essential not only for the aesthetic value of newly cleaned and treated stone, but also for long-term maintenance considerations, by ensuring that it is suitably protected from the elements. As such, it's important not to underestimate the value of getting a professional stone specialist round to assess your property. By caring for your walls and paving now, you can prevent bigger problems from occurring later down the line if they are left untreated.
Article written by Kelly Gilmour-Grassam, a Yorkshire lass who loves the outdoors and fine cuisine. Follow her at @KellyGGrassam.