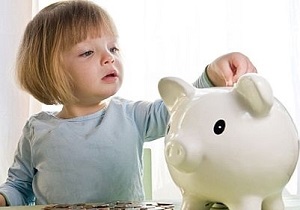 When they're young, children expect that their parents will provide them with everything they need, they will not have to spend a money!
Sadly, as they get older, they still expect it. It is advised to start teaching children about money management at an early age. They learn about money at its value at school, but it does not set them up for adult responsibilities and the world of money management. They can 'fill the gaps' at home with your support through everyday activities.
Here are some suggestions that can help you teach them how to be responsible with their money;
– Pocket money
It seems to just give them pocket money and expect them to spend it wisely. This is also a good way to teach them about loans. If they need to have a bit more pocket money one week, you can come to an agreement where they can get less pocket money the following week to pay it back. You can also teach them the real value of money by providing pocket money for doing jobs round the house, like early employment.
If you need to budget for any circumstance, it is a good opportunity to teach your children how it works. You can show them how much money is going towards the bills and how essential items need to be prioritised. This can be put into practice by taking them on the weekly shop to show you they will need to keep to the budget, by giving examples of how they would need to sacrifice luxuries in order to live by their means.
This is ideal for the older ones. Instead of using a piggy bank, get them to open a bank account. It will help them feel more responsible for their money by putting it to one side, where it is not so easy to get hold of. They can also see how much they can save and is easier to keep track of saving. Talk to them about having a target, if there is something they really want to buy with their pocket money, it is a good way to introduce saving. Suggest saving a bit each week or month to go towards their purchase.
– The internet
The internet is the ideal place to find resources to teach kids about money. There are many useful apps for mobile or tablets that can teach them as well. Let them see how online loan companies work (While teaching them about it through pocket money) and when they are needed. It will teach them a bit of responsibility by showing them the advantages and pitfalls of loans to prepare them in the event of needing a loan. There are many online communities that provide in-depth FAQS that can aid in any questions.
– Make it fun
Children, especially younger ones, need active learning. Making it fun for them by turning it into money-related games could get them learning, without even knowing it. Make it a bit more creative by using toy money rather than real money, something colourful that'll draw their attention. In conclusion, it is best to show them how it works, expose them to real money, and why not use cash instead of card when shopping? Following these tips can help teach them the value of money and help prepare them for challenges later in life.
By Harry Price
In his spare time, Harry Price enjoys gym work outs and cooking.