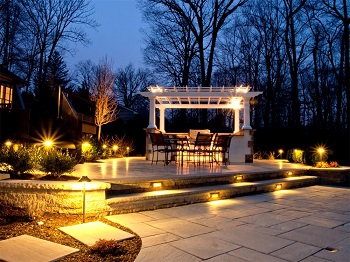 Most householders are content with a porch light and don't much bother with lighting other areas of their outdoor space. Exterior lighting is a much neglected issue which is a real shame because for a minimal investment it is possible to create a safer, more secure home and to make much better use of your garden. Great lighting also enhances the curb appeal of the property which could make it easier to sell.
So if you have only a single lonely light outside what other features should you consider?
Doors
All doors into and out of your home should feature adequate lighting. You may rarely have to fumble with keys whilst outside to unlock doors other than the front entrance but if you use the doors at all then light them because it is all too easy to trip in the dark. Well lit entrances are also a significant deterrent to intruders. I don't know about you but I have tripped or subbed by toe far too many times outside my backdoor and the cost of a light is well worth it for the pain reduction!
The Garage
It makes life much easier if you fit lights above your garage doors especially if they open manually. Fumbling for the lock in the dark can be a major annoyance and it is much safer to open a heavy door if you can see the area immediately around it. Any access to your garage from the garden or side of the house should also feature a light as garages can be an easy way for intruders to gain access to your property unseen. I hit the front of my car opening my garage door on one occasion because it was pitch black and I just didn't think. This was a costly error and a light would have been much cheaper.
Pathways and Drives
Adding lights along your garden paths will make moving around at night a great deal easier and safer and will also introduce an attractive feature to your outside space. Any trips to the shed when you realise you need something that is stored there will be much less hassle and the lights will reduce the number of shadowy areas where intruders can hide. If you have a lengthy drive good illumination will guide evening visitors safely to your door and prevent them from driving over your lawn or even hitting something. My father has a driveway that turns just in front of the house and twice visitors have reversed into his bedroom wall when trying to leave!
Special Features
If you are lucky enough to have a particularly attractive feature in your garden such as a pond, fountain, statue or beautiful floral display then light that too because it is shame to lose the view when the sun goes down. An attractively illuminated garden is a much nicer place to spend your time so make the most of it!
The Barbecue
I learnt my lesson on this one the hard way. I had 40 hungry mouths to feed at a family get together and as darkness fell I found that I was struggling to see the food, let alone if it was cooked. A light above the barbecue would have saved me a lot of squinting and my guests from raw sausages.
Don't ignore your exterior lighting! Poor lighting can prevent you from making the most of a valuable feature of your home and can also prevent injuries and deter potential intruders. Illuminating your garden doesn't have to cost the earth and is a one-off investment. If you are concerned about energy costs then motion sensors can be fitted with most lighting solutions so they only come on when you need them. You have no excuse!
Sally Stacey is a keen writer and small business owner who now has a very well lit garden and patio!