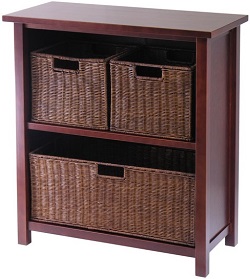 According to Unclutterer researchers at the Princeton University Neuroscience Institute conducted research confirming that clutter has negative affects on your mood and mind. It can wreak havoc on your ability to process information and to focus; which in this day and technological age of short attention spans, unable to focus longer than the reading of the latest Tweet, is alarming news.
Clutter is associated with chaos, and disorganization has been linked to being extremely overwhelmed, unmotivated and even, depressed. To avoid the mind-boggling dilemmas, headaches and overwhelming bouts of depression, here are three storage considerations for eliminating the clutter from your life.
Storage Container Options
First thing's first, what is it you need to store and what is the appropriate storage container for doing so? If you are looking for viable in home storage options for everyday, manageable clutter, there are plenty. For that stack of newspapers or subscription of your favorite magazines, magazine racks are available in a variety of different styles. There are even magazine racks for your bathroom, for that lighter reading of the day.
Closet organizers and shoe racks help keep your closet clutter free. There are floor models and over the door racks. Garment bags are great for storing seasonal wardrobe items and/or additional bedding sets. Your laundry, or utility room, is a common place for disorganization and mess.
A laundry caddy that rolls between your washer and dryer units, proves resourceful in eliminating the clutter of laundry detergents and fabric softeners from the tops of your machines, into an organized and hidden solution. Media towers and cabinets are necessary for keeping your CD collection, DVD and Blu-ray and even, video game collections organized and displayed for easy find and access.
Decorative basket and bins furniture pieces have become increasingly popular due to their practicality and added decorative appeal. The baskets or bins pull out from the shelving unit that harbors them, making the contents inside not visible to the home. These are great for odds and ends around the house that don't have a specific spot to fit in. Great for replacing that old cluttered, junk drawer that you can never find anything in!
Offsite Storage
Sometimes your home can even become cluttered with storage containers and bins. If you have recently moved into a smaller dwelling but have valuables or belongings that you are unable to part with, you may have invested in several Rubbermaid bins that are not cluttering up a spare bedroom or your garage space.
If your garage is so crowded with extra belongings that you can not even park your car in it, then perhaps it is time to consider either rummaging through the bags and bins and hosting a garage sale, or considering an offsite storage facility to house this clutter. Offsite storage offers units in a variety of different sizes, ranging in different monthly rental prices.
If you absolutely cannot part with these things, consider a small rental fee as a big investment to eliminating that clutter and avoiding the depression and mood and mind altering effects it may impose upon you.
Business Records Storage
Another area of your life that can become cluttered and overwhelming is the workplace. If you own and operate your own business and are finding storage of your records and files to become overbearing and stressful, consider an offsite storage facility that offers secure keeping of your records.
Once you take the necessary steps in organizing and eliminating clutter from your daily environment, you will feel better and life will be less stressful for you and everyone else in the family.
+Paul Reichman  provides a selection of bed, bath and kitchen accessories that will help style your home at an affordable cost to you ar Bedbathstore.com