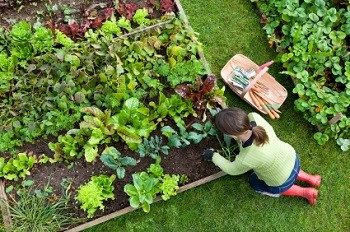 The gardening section at the home improvement store is full of tools with numerous uses and various sizes. Some gardening tools are meant for experts or those with unique circumstances. However, there are eight gardening tools that every gardener needs to have in their gardening shed.
Shovel
A shovel is the number one tool any home gardener should have. It can be used for digging, moving soil, uprooting plants, and scaring critters away from the vegetables. When looking to buy a shovel, make sure the handle is securely fastened to the blade and that there is sufficient foot rests. The Truper Tru Pro shovel sports a fiberglass handle and D-shaped grip that makes using it easy; it is study and sure to last many seasons.
Digging Fork
New gardeners, along with those trying to loosen packed dirt, need a digging fork. They are perfect for dividing plants, loosening dirt, turning compost piles, and moving mulch. While digging forks resemble pitchforks, digging forks are actually much stronger and more durable. The Radius Garden Pro Ergonomic Stainless Steel Digging Fork is sturdy and easy on the joints.
Rake
Rakes are important to remove leaves in the autumn and rake out beds to prepare for the spring garden. Wide-mouth rakes are easier to use with leaves and loose debris, whereas narrow-mouth rakes are typically a little tougher and made to loosen dirt. The Gardenite Adjustable Head Rake allows a gardener to enjoy the benefits of both wide-mouth and narrow-mouth rakes with only one tool.
Hand Trowel
Hand Trowels look like miniature shovels. They are used to dig smaller holes, plant smaller plants, and remove weeds. A good hand trowel will be made of a solid piece of stainless steel or aluminum with a rubberized handle, such as Fiskars Big Hand Grip Trowel.
Hoe
It can be difficult to get between rows of vegetables or flowers to weed. This is where the hoe comes it. It's shaped so that any gardener can easily and quickly weed and work in the tight and awkward spaces gardens are bound to have. The Nejiri Gama Hoe is strong and durable for regular weeding needs. If the garden is overrun with weeds and roots, a tool with a little more bite might be necessary, such as the Fiskars Uproot Weed and Root Remover.
Shears
Shears are a gardening must. As plants grow, there will be the need to cut off dead stems or flowers, to edge shrubs, or to prune plants. There are many sizes and types of shears. Some shears, frequently referred to as loppers, are large enough to cut tree branches. Before buying shears, make sure to know what size and durability the garden requires. Fiskars makes numerous kinds of sharp and easy-to-use shears, including their Traditional Bypass Pruning Shears.
Water Hose
There are several watering options when it comes to watering the garden. A simple watering can is perfect for small potted plants on porches or patios. Regular water hoses with sprinklers attached work well for those without time to water their garden. Soaker and drip hoses soak the garden in water and are perfect for hot, dry places. Some gardener's prefer a water hose with a nozzle attachment, such as the Viking 8-way Heavy Duty Spray Nozzle.
Gloves
While gloves are frequently overlooked, they are a necessary garden item. The right pair of gloves will protect hands from scrapes, thorns and sticks, blisters, and even chemicals such as fertilizer. Bionic Tough Pro Gloves provide protection with silicon material on the fingers and palm to ensure a strong grip.
American Tree Masters LLC is a full-service tree trimming and removal company in Scottsdale, Arizona.