Said to be just as easy to assemble as an IKEA bookcase, flat pack homes (or 'kit houses') are a cheaper and quicker alternative to conventional housing. Despite being around since after WWII, prefabricated housing has become increasingly popular since the 1960s, with 10,000 people now choosing to build their own home every year.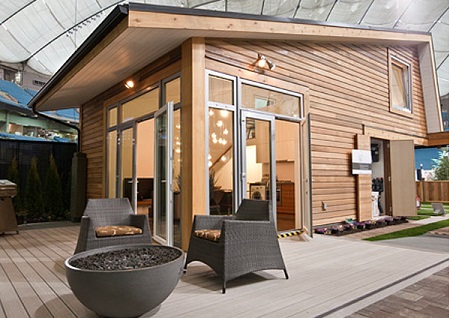 Why choose a flat pack home?
Flat pack homes are partially made in factories and then assembled on-site. Unlike its post-WWII counterpart, the modern kit house is stylish, spacious, energy efficient and eco-friendly. They're made from renewable timber and are air tight. They can be constructed in just a few weeks, cost 10-25% less than building a traditional house and are easily installed.
A flat pack house is an affordable choice for first time home buyers struggling to get a foot on the property ladder. What's more, flat pack houses are available in bespoke designs. Much like playing the popular video game series The Sims, you can design your own house or select from standard floor plans.
How should I budget?
Flat pack homes come in a variety of styles and prices, from the cheap and cheerful to the extraordinarily expensive. You can get yourself a quality flat-pack home for less than a conventional house. The least-expensive flat pack homes typically cost around £70,000 for a one bedroom flat, rising to £350,000 for a modular custom build.
Creating your own home could involve commissioning architects, builders and contractors. Set yourself a realistic budget and then add 10% as a contingency. If you need to take out a mortgage to cover the cost of the land or relieve the price of the build, there are specialist companies who offer loans for flat pack projects or stagger your mortgage payments, such as BuildStore.
Where can I find a plot?
Before you start building, you need to find a suitable plot of land. It's a good idea to use a land-finding agency and sign up with estate agents in the area you're interested in. If you tell your estate agent you're only interested in renovation projects, you could find yourself a run-down property which you may be able to demolish.
Remember to check your plot has planning permission. You can find this out using The Land Registry – if it does not, you will need to acquire it. The average planning permission application costs £335.
Where can I get a flat-pack home?
There are a large number of flat-pack house manufacturers in the UK. King of flat-pack furniture, IKEA sell over 800 energy efficient BoKlok flat pack homes in Sweden each year and introduced them to Europe in 2006.
In the UK, Huf Haus is a German company based in Surrey. They make luxurious modular homes which can be customised in any way you like. Their photovoltaic panels to generate electricity and solar heating systems for hot water make them energy efficient, so you can look forward to spending less on your gas and electricity bills.
If you don't fancy building your house yourself, Cambridge-based company Baufritz can design, build, plan and manage your project.
Ideal for expanding your existing home and giving you some much-needed extra space, Tiny House UK make homes for just £6500.
Sam Travers is an eco-warrior of sorts. He works for a green charity and blogs regularly with help and advice for those looking to make the planet a better place.