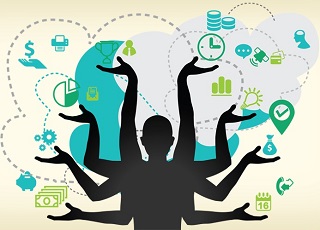 The skills you posses play a large part in determining whether you will land a great job or not. In the past, having hard skills automatically guaranteed candidates of good paying jobs. This is because employers used to only focus on a job applicant's technical training, knowledge, and abilities.
But, in today's highly competitive job market, hard skills are no longer enough to get a job. More and more employers are also looking at necessary soft skills that complement hard skills. Aside from helping you to get a good job, a set of great soft skills can also help you get a promotion.
So, what exactly are soft skills? Soft skills can best be described as personal attitudes, habits, and qualities that influence how you interact and work with people. Below are 5 must have soft skills that will increase your chances of getting hired.
Work Ethics
Ethics refer to a set of common personal characteristics that employers look for in potential employees. Regardless of the nature of the job, ethics are a key element in ensuring efficiency, productivity, and job satisfaction in the workplace. Two vital work ethics that most employers look for are motivation and dedication. This is because a motivated and dedicated employer works extremely hard to ensure that the job is done well. Other must-have work ethics include loyalty, professionalism, good manners, and respect for your colleagues.
Communication Skills
Since all jobs entail working together with colleagues possessing good communication skills is very important. Great communication skills here refer to a combination of being verbally articulate, good at listening and expressing yourself. Possessing great communication skills ensures that you can convey your thoughts, opinions, and suggestions in a professional and appropriate manner that does not offend your bosses, colleagues, or customers.
Readiness To Learn
The skill of being willing to learn and accept criticism will take you very far in your career. Regardless of your age, experience, and position, you should always be willing to learn from others and improve on your skills.
A Great Attitude
The last thing that any employer wants is an employee who has a negative attitude towards their work. An employee who always has a negative attitude makes the entire workplace depressing, thus interfering with productivity and even customer satisfaction.
Aside from causing tension at the workplace, a negative attitude can also affect your success and job satisfaction. Having a positive mindset to your work on the other hand goes as far as encouraging your co-workers to want to work harder. To instill a positive attitude within yourself, begin with your personal life and it will flow to your work life. Avoid sarcasm when communicating with people, surround yourself with positive people, and program yourself to always look for the good in people and in challenging situations.
Team Work Skills
Teamwork is by far the most important soft skill as it contributes towards excellence within the company. With good teamwork skills, you will experience no difficulty working side-by-side with people from different cultures and generations. You will also be able to negotiate and compromise when problems arise with coworkers. Teamwork is all about getting the job done together without caring who gets the credit of a job well done.
This article was written by Elionoir Munroe, a part-time writer and career consultant. To get job related advice and tips Elionoir recommends you visit http://www.xpressrecruitment.com/.