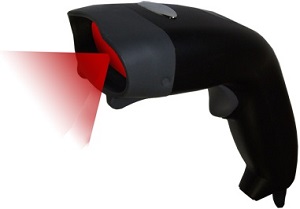 A barcode scanner is an electronic device for reading printed barcodes. The device consists of a light source, lens, and sensor for transforming optical impulses into electrical signals. Commonly used in Electronic Point of Sale (EPOS) systems, barcode scanners are not new to us. Scanning technology however is constantly evolving and providing retailers with more data capturing solutions.
Deciding which scanning technology to use for your business can be a difficult task if you don't know what your options are. To help you make the right choice, learn about four of the most commonly used barcode scanners listed below.
Light Pens
These barcode scanners consist of an LED light and a photodiode placed next to each other on the tip of a device that resembles a pen or wand. Once the tip of pen scanners pass over a barcode, the LED light illuminates the black and white bars printed on the label. The photodiode then measures the reflection of light and is able to determine the width and color of each bar. The information gathered is then decoded digitally and passed to another unit for processing. Pen barcode scanners are inexpensive, durable, and quick at scanning once the user masters how to use them.
Laser Scanners
Laser scanners are perfect for businesses that cater to many people since they provide excellent scanning productivity and accuracy. These scanners are capable of decoding barcodes over a wide range and can achieve more range than other types of barcode readers. This feature makes laser scanners a favorite among many retailers. Laser scanners are the ideal scanning technology for businesses where;
Long distance decoding is necessary
1D barcodes are used
Self-service is applied
There is a lot of movement during scanning
Digital Imagers
Digital imagers, also known as area imagers or 2D cameras, can decode 2Dbarcodes that consist of black and white spaces. Featuring an advanced Omni-directional reading technology, digital imagers eliminate the need for a scanning device. This type of scanner uses a camera and a high tech imaging technique to decode barcodes. The camera consists of hundreds of tiny lights which are arranged in multiple rows. These lights flash onto a barcode, take a picture of the barcode, and then send it to decoding software as a digital signal.
Digital imagers also have the added advantage of capturing and transferring images. They allow signature capture as well as scanning of documents. The images captured can be used for inventory management.
CCD
Charged Coupled Devices (CCD) also known as LED scanners are highly accurate and versatile. They consist of hundreds of tiny LED lights arranged in a single row and shot onto a barcode during scanning. A sensor inside the device measures the voltage of ambient light directly in front of each light bulb. The voltage reading allows the barcode to be digitally decoded.
Keep in mind that knowing the different types of barcode scanners along with their pros and cons can help you to make the right choice.
This article was authored by Aidan Finley, a technology enthusiast and self-employed retailer. Aidan is always looking for the latest technological developments in the business world. He recommends you visit http://www.i-pos.co.uk/ to learn more about iPad Point of Sale Systems.