As a fibrous plasterer you would create ornamental plasterwork including decorative moulds and casts. Fibrous plastering has been around for a staggering 9500 years, with evidence of fibrous plaster being used in ancient Egypt. Many people use fibrous plaster to decorate interior walls, ceilings and to accentuate certain features in the home.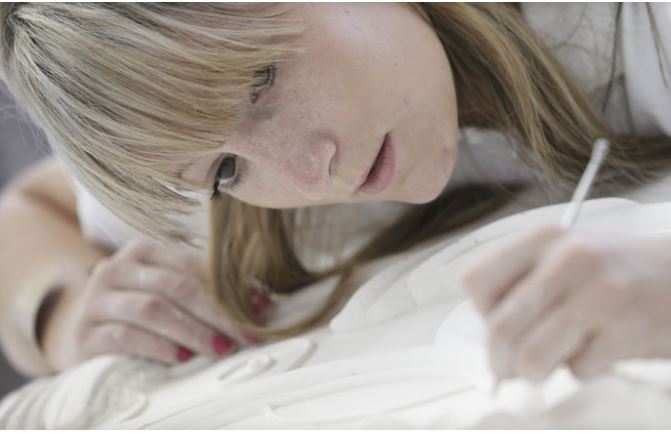 It is popular in the average household as well as in theatres and other famous commercial premises, and you can go and view some stunning examples in places such as St Pancras Renaissance Hotel and the London Palladium.
A career with something a little bit special
Becoming an Artisan in fibrous plastering can lead onto incredible opportunities. This is not just your standard career, it is extremely rewarding and people will admire your work for years to come. There is an extremely high demand for artisans in fibrous plaster due to the amount of skill and talent that is required for this type of industry. An added bonus, it is thought that up to 50% of the people that decide to head down this career path end up working on television and film sets.
Available fibrous plaster courses
There are many courses available for anybody looking to take the first step on their journey to becoming an artisan in fibrous plaster, and a good place to start is City & Guilds. Gaining a qualification from City & Guilds means that you will learn from the biggest names in UK vocational education and have access to many of the best courses in the trade industries. The organisation offers Diplomas that can take you from being a total beginner to an advanced level plasterer, though prices do start at a rather hefty £2000. There are alternatives if you haven't got two grand laying around to spend on a course.
Instead of going to City & Guilds for a qualification, it is possible to gain a NVQ which are partially funded by the government, making NVQ's much cheaper. They start at around £800, an entry point which is a lot more accessible for many people, and the NVQ is a lot more hands on, which means it's perfect for anyone that doesn't necessary excel in the theory side of the course. It also gives them the opportunity to build on practical skills.
Both courses will equally offer you a wealth of knowledge in the fibrous plaster field and will give you the skills you need to start employment with a company that will help you specialise in a certain area.
What to expect
Your time as a fibrous plasterer will be mainly spent in a workshop, where you will be working on items such as ceiling roses and cornices, but sometimes it will be necessary for you to work onsite for short amounts of time. Starting salaries tend to be around £14,000 to £17,000 in the first year and then rise to around £25,000.
Of course this salary can vary, especially if you end up working on television and films sets, or famous residences. How far you go in this industry is completely up to you and, unlike many of the construction trades which are largely male oriented, the fibrous plastering sector attracts many women who are keen to put their artistic skills to use in this industry.
Jon Riley is the Co-Director of Locker & Riley, which is an award-winning fibrous plaster specialist based in Essex. The company boasts an impressive portfolio and examples of their work can be found at prestigious venues such as St. Pancras Renaissance Hotel and the London Hippodrome.