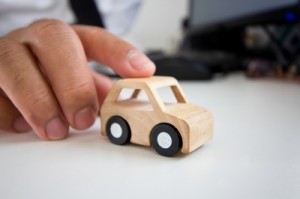 For those who have had a less than perfect driving record can attest, a high car insurance premium can be a real strain on your budget. The easiest way to avoid paying two or three times what the average driver pays for coverage is to go at least 3 years without an incident. If that's not possible just yet due to recent events, then the first step is working hard to hit that three year mark most companies look for.
Not to worry in the meantime, there are still several other ways to go about saving on that high premium and get some more discretionary dollars back in your wallet.
One of the often overlooked ways to save on car insurance is actually taking into account how much it will cost to insure the vehicle BEFORE you buy it. New car dealers will point to all the shiny toys on the newest model vehicle and preach about surprisingly affordable car payments. Not only do you save substantially on the sticker price by finding a safe and reliable used car, you also can expect a lower true market value (TMV) which will consequently lower your insurance payments.
Also avoiding vehicles that have high repair costs, poor safety ratings, or fall under the category of a high theft risk will help you save on your premium. For all you car enthusiasts, If you do fall in love with a specific vehicle that carries a higher than average risk there are certainly more conventional ways to save that do not leave you driving the car you don't want.
If you aren't willing to sacrifice on what car you drive and your driving record is still less than ideal you can use some of the tips below to keep insurance premiums as low as possible.
Shop around – Don't just settle for the same insurance you've always had to avoid the hassle of rate shopping. Your friends or relatives may have a great auto insurance premium through their provider but that doesn't mean they are the most affordable option for you. It's always smart to at least get a couple quotes from other providers each time your current policy is up for renewal.
Combine Policies – Most insurance companies offer large discounts if you combine different products such as homeowners insurance with your auto policy.
Drive Less – The more you're on the road, the greater the chance for an accident. Many companies offer low mileage discounts to those who drive less than the average miles per year. If you can arrange a carpool to get to work a couple days a week you'll not only save on gas, you'll also have a better chance at qualifying for a low mileage discount
Take a Defensive Driving Course – There are several companies that offer a discount for passing an approved course even if you have a clean driving record
Make the Grade – If you are currently in school or have children that are, you can qualify for a discount based on keeping up that GPA.
Go Paperless – This one is common sense in 2014. Do you really need to still have paper copies of your declarations page to file away/lose a few days after they're mailed to you.
Increase Your Deductible – If you are able to withstand a higher out of pocket expense in the event of a claim, increasing your deductible can help reduce your premium.
The above are only some of the ways you can keep your premium down. It's wise to ask your chosen provider of any additional discounts that may be applied based on different affiliations, auto clubs, or programs you can join. Taking advantage of some of the above tips coupled with a safe driving history will keep your premium to a minimum. That should then free up more money to spend where you want to rather than paying more where you have to.
Today's post was provided by Brian Levesque, professional writer at Insurance Land. Brian is a skilled blogger with multifaceted abilities and keen attention to detail. He enjoys spending his free time reading books and traveling to new places.