Having work done in your home is already a stressful time. Exciting, yes, but stressful! You may be worried about the effect it may have on your garden, and if there will be any lasting damage. If you create a check-list, and ensure that you take appropriate action, you can make sure that any damage done to your garden is either barely noticeable or non-existent!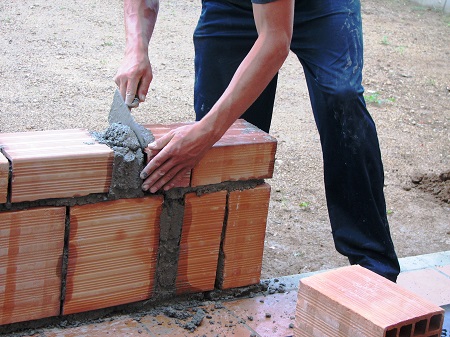 So what things should go onto your check-list?
Where is the work taking place?
It's important to establish where exactly on your property the work will be taking place, so that you can figure out what parts of your garden could potentially be in the line of fire. Things such as scaffolding and skips can use up a lot of room, so estimate how much of your garden will be taken over during the course of your work being done.
How long will the work go on for?
Knowing how long the work will go on for is vital. You'll need to know this not only for hiring things such as skips and lorries, but also so you can plan a care routine for your garden around the work. If you are going to be unable to water plants or tend to trees during the duration of the work, you will need to know exactly how long for so you can figure out exactly what course of action to take.
Clear the area:
Your garden may contain plant pots, furniture or ornaments. If this is the case, it will be a good idea to remove them from any areas where they could be vulnerable to damage from falling objects or knocks and scrapes.
It would be ideal to store them in a place that is completely separate from the work area, if possible. So this could be a garden shed or a self-storage location that you have hired. If you have no choice but to keep them outside, just try to remove them from the area where the work is going on, and cover with plastic sheeting to protect them from any damage.
Ensure the ground is protected:
When work is being undertaken on your home, especially high up on the roof or top floor, falling materials are a big concern. You can prevent this by protecting the ground with a tough, durable mat or temporary walkway that can withstand any damage.
This is an effective and totally reversible solution, and your garden will withstand little to no damage as a result. Yes, it's a financial outlay, but what is better? Paying for a preventative measure or dealing with spiralling repair costs?
Enjoy your transformed home!
Once you are sure that your garden will be adequately protected during the course of the work being done, you can look forward to seeing the end result! A beautiful garden is the perfect accessory to a beautiful home, and ensuring that yours stays damage free will ensure that your transformed home is complimented beautifully by what is outside it.
Henry Savage is the Director of All Weather Access based in Dunmow, Essex which provides Trakmats for purchase and hire for ground protection whilst you are carrying our home improvements