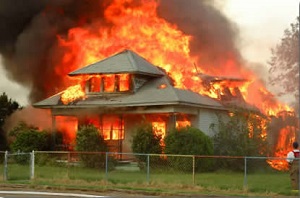 Domestic fires injure hundreds of people each year in Britain. With the worst fires costing home owners lives, it's not simply a case of protecting your possessions and precious memories. Here's some steps you should be taking to lessen the chances of a deadly house fire:
1. Keep Safe In The Kitchen
Oil is the number one cause of kitchen fires. Make sure you keep oil covered, and never attempt to put out the flames with water if the pan gets out of control. It's much better to simply place the lid back over the pan and remove it from the hob.
Most kitchen fires occur when owners leave the room: Always turn off burners and grills when you exit the kitchen, even if you're simply answering the phone or the front door.
If you arrive home under the influence of alcohol, don't use a naked flame. Prepare cold food instead. Likewise if you're extremely tired: Stay safe, eat a sandwich or prepare food earlier in the day ready for the microwave.
2. Pay Attention To Naked Flames
Smokers should never light a cigarette in bed. It's preferable to go outside to smoke if at all possible. If you're tired, it's best to drop your cigarette into a damp sink to prevent ignition. Ash trays should be emptied and washed regularly in order to remove the buildup of flammable materials.
Even if you're not a smoker, you may still have naked flames in the form of oil burners and candles. Take the same advice: Always extinguish flames when leaving a room, and ensure pets and children can't get close enough to knock candles over.
3. Test Those Christmas Decorations
Natural Christmas trees are dry and very combustable by the end of the holidays. Synthetic ones are often just as bad, if not worse. Make sure your Christmas lights are in good order with properly shielded wires and LED bulbs for cooler operation.
4. Store Matches Safely
Matches and lighters should be kept in their own separate sealed containers and stored far away from children. Educate your children on the danger of matches, and consider physically locking them away.
5. Keep Safe In The Garden
Compost heaps may sound like an unlikely source of fire, but the buildup of heat, combined with a long dry summer, can cause a fierce fire if positioned next to a house.
If it's barbecue season, position a fire extinguisher close by and be very mindful of the positioning of propane tanks. Igniting a barbecue should be done with care and caution.
6. Pay Attention To Pets
It doesn't matter if you have a dog, cat, or rabbit, pets always chew exposed cables. You need to be extremely vigilant to prevent your animals from gnawing through cords and wires and leaving exposed live cabling.
7. Get Educated
If you live in a block of flats or anywhere that's crowded, consider organising a meeting with your fellow residents and taking some basic training. Companies such as www.source-fire.com can arrange safety checks of your premises and advise you on a specific fire prevention plan. It's important to keep informed of fire drills and appoint a dedicated fire marshall if you live in a large tower or apartment block.
Bonus- Keep Up To Date
As well as staying safe in your day to day activities, it's vital that your home is regularly tested, and your appliances are up to scratch. Fire safety needn't be a chore if it's part of a regular routine.
By Harry Price
Harry Price is a freelance writer and entrepreneur. He is a personal trainer and has trained some pro athletes.