Mobile internet usage is growing rapidly. According to a popular research, the number of mobile internet users is already higher than the number of desktop users or we will see it happening in the upcoming months. This situations calls for new solutions, which allow web designers to create mobile user friendly websites and provide online sellers and bloggers with good solutions to reach their customers/fans regardless of the type of platform they are using to connect to the internet.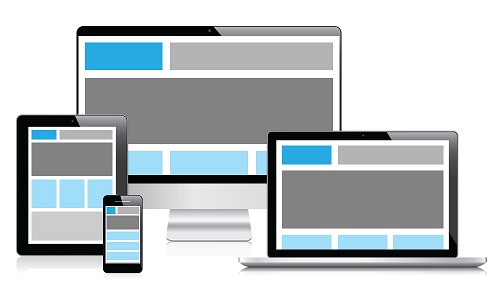 1. One design – multiple devices (current and future)  
The alternative approach to website design – mobile templates – are created for every mobile platform separately. But if you consider how many different types of smartphones are already in use and how many new models are introduced every year, it becomes more and more difficult to monitor the trends and offer new, compatible online solutions for every platform.
Responsive design, which follows the rule "one project – multiple platforms" is much more time and cost effective. It means that you can create one design and adapt it flawlessly to every mobile device out there, regardless of its screen size and width of the web browser.
2. Users prefer consistency
Imagine that you have created a mobile version of your website for smartphone users and a different version for desktop computer users. Since these are not two separate groups of customers – mobile users also use desktop computers and vice versa – there will be multiple situations when your customers visit both the mobile and desktop versions of your website and respond to them differently.
User satisfaction is an important factor to consider – you want your customer to be happy with the design of your website instead of preferring one version over the other or becoming annoyed with the fact that your mobile website does not provide the same features as the desktop version. Keeping your mobile and desktop websites identical allows you to maintain a consistent image of your brand and services.
3. Easier to manage – easier to promote
Having one template makes it a lot more convenient to manage the content of both your mobile and desktop website. It also means that you can run one SEO campaign for both platforms, instead of focusing only on one type of device or creating two separate campaigns. This is one more example of how responsive design helps you save time and money. And if you are worried about the success of your search engine optimization campaign, Google solves that problem for you by officially recommending responsive design as the preferred solution for SEO.
The main reason for this recommendation is the identical URL and HTML of the mobile and desktop website – it makes the website easier to scan for Google bots. Also, according to Google, responsive design can increase the speed of loading a website on a mobile phone – a website designed for desktop computers will take twice as much time to load on a mobile device, which can significantly decrease the convenience of using the internet on a mobile phone.
Written by Marta Gromadzka, a blogger, a copywriter, a marketing specialist.