Some people don't want to make permanent modifications to the closet in their apartment or house.  The problem is that there are plenty of items that need to be stored in some sort of logical manner.  When you really don't want to spend a lot of money or live in a small space, it pays to invest in solutions that help to maximize the space and fit neatly into your budget.  Each of these ideas will cost no more than $20.00 and can easily go with you when you move.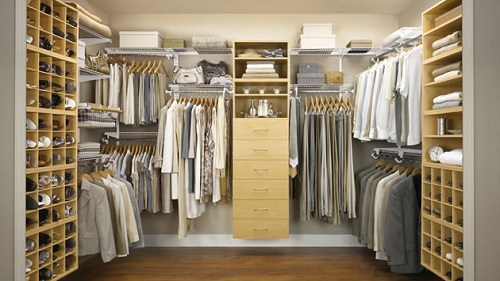 Add Another Clothing Rod
With most closets, a great deal of space is set aside for hanging clothing.  That's great, except that most closets come with a single rod.  That leaves a lot of wasted space underneath.
Make a temporary rod using dowels, chain, and hooks. Those hooks go around the existing rod, and the chains allow you to adjust the height to accommodate whatever is hanging on the permanent rod.  Use the top rod for suits, shirts and blouses.  The bottom rod will easily accommodate the pants and jeans that you want to hang.
Buy Under Shelf Baskets
There's usually space between the bottom of the closet shelf and the rod.  Fill that space with under shelf baskets.  These hook onto the shelf and create instant storage for gloves, scarves, and purses.  That leaves more room on the top side of the shelf for larger items.
Buy Some Closet Cubes
Closet cubes look like old milk crates, and snap together to form several different types of configurations.  If you happen to have a closet with lots of wasted space overhead, the cubes create more vertical storage.  Items you don't use often can go in the top cubes, while things you need more frequently can occupy the lower cubes.
Use Your Stored Luggage
Instead of leaving your empty suitcases to take up valuable storage space, use them to store your out of season clothing.  This approach will free up more space elsewhere in the closet, and also help protect that clothing until you need it again.
Insert a Chest of Drawers
If you don't need all the hanging space provided by the one clothing rod, think about ways to use that section of the closet more efficiently.  One solution is to purchase a narrow chest of drawers that can fit inside your closet.  The drawers will provide plenty of storage for sweaters, jewelry, and other accessories. Since the chest of drawers is going in the closet, pick up one at a yard sale or a thrift shop.
Use Soda Can Tabs
If adding another rod is not practical and fitting a chest of drawers into the space will crowd your hanging clothes, consider saving your soda can tabs and putting them to work.  Slide a tab over the hook of a hanger. You can then slide the hook of another hanger through the second hole in the tab.  This approach allows you to get more use from the hanging space. As a bonus, you can match garments using this strategy.  That will make getting dressed in the morning a lot easier.
Have Your Own Chain Reaction
There's another way to hang multiple garments in the same basic space.  Invest in links of chain that have large enough loops to accommodate the hooks of your hangers. The top link fits around the clothing rod.  The attached links allow you to vertically hang multiple garments.
Curtain Rods on the Doors
If your closet doors open into the room rather than sliding on a track, consider buying a couple of cheap metal curtain rods.  Mount them on the inside of the door.  This approach creates additional space to hang things and still keep everything organized.
Use Shoeboxes
Plastic shoeboxes are great for organizing space on the floor of the closet. Rather than lining all your shoes on the floor, use the stackable boxes to organize them by type, color, or any other system you like.  This will make it easier to store multiple pairs in the same amount of floor space, since you are using vertical as well as horizontal space for the job.
Use Hooks on the Closet Interior
There's dead space inside on either side of the door.  Put that space to work by mounting hooks in those areas.  They'll work for hanging scarves, jewelry, purses, or computer bags.
Creating additional space in a closet does not require a lot of money or new construction.  By assessing the current elements of the closet, you can identify several ways to use the space more efficiently. Making the most out of smaller dwelling can make your place feel much larger.  Once you implement three or more of these strategies, you'll be amazed at how much your closet will hold, and how easy it is to find things when you need them.
Jim Dunnings is a freelance writer focusing on home living solutions.