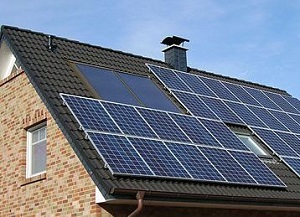 The benefits of investing in a solar system for your home are numerous. Not only will you be helping to protect the environment, but you will also be adding value to your property and significantly minimizing your utility bills. Though solar panel roof installations are probably the most well-known, homeowners have some options when it comes to giving their residence a solar boost.
Solar companies offer a few different types of systems for generating heat and electricity. Find the best fit for your home and finances by familiarizing yourself with the following ways you can efficiently use solar services.
Solar Electricity
As mentioned above, solar electricity panels are what commonly come to mind when people think of a solar system. These photovoltaic panels are roof, trellis, ground or pole-mounted and work to convert the sun's energy into electricity that can then be used to supply power to a property. Solar electricity is generally produced in three ways – by connecting to a grid-tied system, a grid-tied with battery backup or by going completely off-grid.
A grid system will keep you linked to the utility company so that while sunlight provides your energy during the day, it will come from the company at night and on cloudier days. With a battery backup, you can count on uninterrupted service even if power were to go out on the grid. Going off-grid is usually reserved for those who live in areas that can't receive electricity from a grid. Professional solar companies specialize in being able to assess if a home is a suitable candidate for solar power, and if so, the type of panels and system it should have installed.
Solar Hot Water
Hot water holds great importance in any household. Necessary for showering, washing dishes and cleaning clothes, hot water is used in abundance every day. Solar hot water systems allow homeowners to continue using the same amount of water they normally would on a daily basis and pay a considerably smaller amount for it.
For solar hot water to work efficiently, panels (or collectors) will need to be installed on the roof and be able to soak in a good amount of sunlight to generate enough hot water to accommodate the size of your family. It's common for people to keep their old hot water systems for backup on days when sunlight isn't in abundance.
Solar Pool Heating
The upkeep on swimming pools can be very costly, but solar companies help to change that with their pool heating systems. A solar collector, chosen to appropriately fit with your specific climate conditions, will circulate the water through to be heated by the sun before returning it back to the pool at a comfortable temperature. Solar pool systems can also be used to cool the water in your pool during particularly hot months, which is an added advantage.
With most solar companies now offering financing options that make it more realistic for homeowners to invest in solar, it's becoming apparent that solar systems are the way of the future.
By Tiffany Olson
Tiffany Olson is a clean energy advocate and blogger who loves to inform the public on a variety of sustainable topics. She loves to listen to music, do yoga and cook.