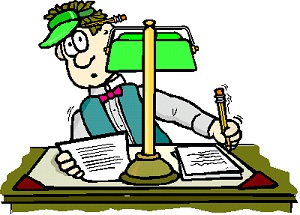 Invoices are the life blood for an accountant. It seems that no expenditure or income item can be even contemplated without a valid invoice to back it up – even if you do get away with it, it's only a matter of time before the year end or the audit and it all comes back to bite.
The reason for this is understandable, as you need to have clear rules or things become too ambiguous. Before you know it, there are all kinds of items going through the books which defeats the whole principle of an accountant being there to correctly account for monies and items.
For those on the non-accounting receiving end though they can be a pain, whether just the hassle of establishing and then keeping all these invoices, or trying to come up with one where it's just not that straight forward, maybe a cash transaction there-and-then where no invoice was possible.
So here's a few tips to help you get ahead of the game and invoices good to go:
1. Purchasing online can help keep automate records. Not only will you often secure the best price online, and with delivery straight to your door, but in most cases there is an automatic record of what your purchases on in your 'account' or profile. Even popular sites like Amazon and eBay which are popular for individuals, also cater for business purposes with easy invoices to download and print for each purchase, and a lot of trade suppliers that you maybe deal with by email or phone will now have the ability to manage online accounts.
You'll just need to spend a few minute understanding how each website operates their accounting system, particularly when you purchase individual items with a particular supplier or shopping-cart order, which can mean that items are summarised under one invoice.
2. Take PDF copies to file digitally. This kind of builds on the above point in that once you have an online invoice or form of accounts summary, the tendency is to print off a copy and stick on the file ready for the accountant. One way to make sure this a little smoother though is to take a copy of the web page or invoice copy as a PDF file, which you can then save on your computer to either save under a folder of maybe 'invoices' to store digitally and pass straight to your accountant at the end of the year, or print off at your leisure.
You can also easily email people with them as an attachment, maybe even your accountant to also maintain a digital copy. There are lots of free pieces of software you can download to help produce these such as Primo PDF, and often they are set up as an alternative 'printer' to use as you print the invoice – sounds strange to print it when you're actually only saving it, but that's the way it's set up on a computer.
3. Get things written down. An age-old golden-rule to always go by in business – get everything in writing. Make sure there is a written record, ideally agreed with any other people involved, so it's always there to refer to and remind.
This is particularly important with often quick and cash purchases where there is no formal invoice issued, in which case jotting down on a piece of paper what it is, the 'supplier', and cost, will at least help record. You could even quickly send an email to the person to summarise the main points so both have a written record.
Andy Nuttall is from The Website Designer and the BEST range helping source local businesses, with more accounting resources on local accountants at BEST Accountants.