Business owners understand the fact that safety and look of an architectural project play a significant role in influencing the client's impression. As a result of which you should try to bestow a professional look to your project with some enhancements to its landscaping. Several ideas are found for the simple, sensible and commercial landscaping.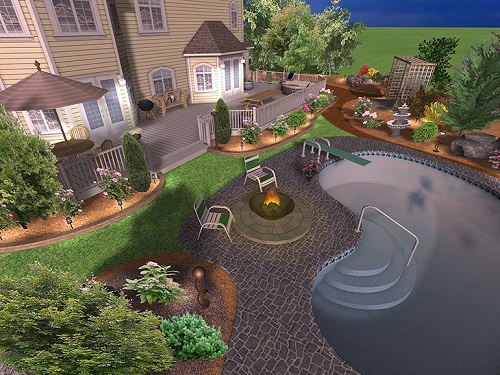 The landscape planning software applications range from commercial to professional landscaper to the software designed for landscaping on your own. So, before you make the decision of purchasing software, you must take into consideration the features you will need for completing the project.
Examine the features of the software like the ability to drag and drop images throughout the design of your desktop. You must check out the position of a deck or the places where the planting beds or certain trees will look good. This will provide you the chance of visualizing your space. Moreover, you should look into the editing ability of the software as this provides you the ability of making quick edits like removing the elements of the landscape you have placed before like the pathways or the trees.
In addition, some landscaping software programs provide the user the chance of dropping in the photos. This gives the homeowner the advantage of manipulating the plans with the photographs from his own yard. Furthermore, some software programs include the 3 dimensional capability of walking through the yard.
The landscaping software applications and the ideas are able to make the job of designing easier and amusing. If you make use of these software applications for your architectural projects, they can help you save the expense of appointing an architect or a landscape designer.
Let's check out the landscape planning software for architectural design:
Smart Draw
This software application provides an inexpensive as well as an easy way of laying out the design of a landscape on your computer. It includes gardens, decks, patios and several other features for proving you an idea for your yard. Rather than starting a blank screen, Smart Draw is available with a wide array of templates from which you can select and customize the design by adding specific details. The library makes it easier to make your design or try out various ideas like winding.
You may find various brick patterns and different types of shrubs, flowers and grasses. Furthermore, you may add a sprinkler system to the layout. Another advantage of using this software is that you will be able to add a sprinkler system to the design and you will get a free support through phone or email.
Idea Spectrum
Idea Spectrum's collection of user-friendly software programs are ideal for designers and so no computer-aided design experience is required. As a result of which the homeowners are also able to use this software program.
Real-time Landscaping Architect
This program lets you create landscape plans that look like as if they are drawn by hands. It includes several symbols like the decks, plants, planters and pools so that you can work with various shapes, colors and materials. Real-time Landscaping Pro makes use of three-dimensional technology for helping you see the finished result of your landscape design. You can import the photographs of your property for using them as the basis of your design.
Earthscapes
It is also used by several professionals. This software application has multiple features like photo imaging, landscape planning, plant care and estimating. The library symbol lets you create landscape designs with grass, beds, trees, flowers, pavers and walls through a click and drag interface.
Use any of these software programs and make a successful architectural project. However, you can also consult an architectural designer if you fail to design the project on your own. See here to get more information on architectural designing.
Albert Smith is passionate about home renovation, architectural design and gardening. He is a freelance architect and a property management consultant in West Palm Beach, Florida. You can find Albert's articles on many property blogs and article directories. Currently he is writing on interactive 3d animation for new home buyers.