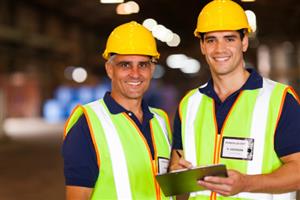 When safety equipment is considered part of a uniform, employees are far more likely to remember to use it. Here are a few tips for business owners to encourage the use of safety helmets, reflective vests and other important gear, even in the most hectic workplaces.
Position on-site safety equipment where employees clock in. Helmets, work gloves, reflective vests and other gear may or may not be unique to the wearer, but if it's stored somewhere that your employees need to pass through, they're less likely to forget it. Cubbyhole storage systems, lockers and hanging racks can help keep an area organized while still keeping important workplace safety gear in view. If spaces are assigned to certain employees, managers can also use the system to tell at a glance which employee isn't wearing their safety equipment. If resituating equipment storage isn't feasible, consider moving the clock-in mechanism or computer into the locker room or entryway where the gear is currently stored.
Customize cloth or canvas safety gear with a company logo and institute mandatory use. A vest is easy to shrug off when it is "just" a reflective vest, but by incorporating a logo and dress code expectation, the garment will be more memorable to employees as a representation of their work place. When creating employee handbooks or orientation classes, be sure to update expectations with a head-to-toe list of safety equipment, along with an example picture of a properly geared employee, if possible.
Offer incentives for passing random "safety checks." If each employee – either individually or as part of a team – passes a series of random on-site inspections for their safety gear, offer a long lunch, gift card or other appropriate reward to encourage faithful, everyday use of vests, helmets, gloves and other protective gear. In addition to ongoing incentives for on-site safety equipment, be sure to emphasize that wearing proper personal protection – steel-toed boots, etc – will help get a new employee incorporated into the workflow more quickly and easily.
Connect necessary identification to necessary equipment. A reel-style badge holder can be connected to a helmet or vest, making it a vital must-have piece of gear for moving around a work site and operating heavy machinery. Alternately, a clear vinyl pocket can be placed on a reflective vest or jacket to make holding proper ID a breeze – as long as your employees remember to wear their safety gear. The convenience aspect will help encourage even the most reluctant employee to gear up without complaint or excuses.
Don't skimp on proper sizing ranges. Ill-fitting clothing or head gear makes a convenient excuse to "forget" gearing up, so don't leave that loophole open! When purchasing helmets, gloves, boots and other workplace necessities, either order a wide range and keep a small stock available, or order as-needed for each employee to ensure both personal comfort and commitment to safety.
In general, your workplace and workplace rules should emphasize any required safety equipment as part of a uniform – an employee wouldn't start work without, for example, a shirt or shoes, so they should consider safety gear to be of the same importance.
While there may be growing pains as your workforce adopts new policies and ideas when it comes to their protective equipment, it's a positive direction for both their own safety and the growth of your company.
Father of five Jacob Maslow never has free time, but still manages to blog for Tuff Supplies, an online retailer of Safety Gear. You can follow Jacob's professional and personal ramblings on twitter (@jakemaslow) or see pictures of his kids on FaceBook.