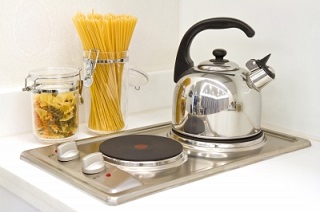 Over the past few years steel has become a popular choice of kitchen items and sinks. People prefer using steel items since they are durable and serve the purpose rightly. Moreover, it is resistant to corrosion and stains. Apart from fulfilling the requirement, it adds to the beauty of your kitchen by giving it a sleek, shiny and clean look.
However, this shine won't last long if you don't take care of it. The steel will start rusting with the passage of time if measures are not taken for its maintenance, and soon that clean kitchen will start to look dirty.
To help you out in this chore, we have provided steel care and maintenance tips which will make your household steel items last longer as well as making your place look sparkling.
Tips on Maintaining and Cleaning Household Steel
1. First of all you should know that what products you can use for the steel care and maintenance. Do not use bleach or any other product which has bleach in it. Bleach and steel reacts, leaving behind a gold colored blemish on the surface of steel. And if this is continued, the steel starts to rust.
2. Steel has a shiny and polished surface so avoid using abrasive household cleansers or cleaning tools on it such as steel wool or steel brushes because they will leave permanent scratches on the steel item.
3. The best option for steel care and maintenance is to clean it with a dirt free and lint free cloth soaked in warm water. This will remove stains and fingerprints, giving back the steel its spark. Make sure that you dry the steel properly because if you will let it dry naturally, you may end up with marks on steel.
4. To revive the polish of your steel items and sink, rub lemon on it; or you can also clean it with a few baby drops of lemon juice on a piece of cloth.
How to Prevent Steel from Rusting?
You must have noticed that with the passage of time, your household steel starts to rust, which is not at all appealing to the eyes. This happens when the steel is in contact with water for longer periods of time. Salty water causes steel to rust much quicker as compared to plain water. In this case, for steel care and maintenance, a few tips are given below which will surely help you prevent rust.
Instead of using simple steel, use stainless steel. It's expensive but worth spending.
Painting or powder coating your household steel is another good option.
For steel care and maintenance make sure that you keep it away from water. Keep it sealed or protected under a layer of another material.
Always rinse your household steel with fresh water and dry it with a clean towel.
These tips for steel care and maintenance are quiet practical and cost friendly too. Apply these tips and you will see the difference yourself.
Image courtesy of noomhh / FreeDigitalPhotos.net
Erin Smith is a seasoned home improvement blogger with a passion for renovations and interior design, especially DIY projects that are easy to do for everyone. She's currently working with Absolute Fabrication and Metal Works in Langley, BC.