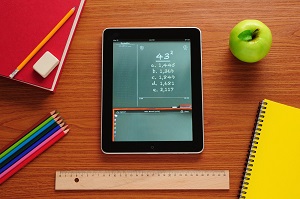 The technology that the average person has at his fingertips today is worlds beyond what he thought was even possible just a decade ago.
From mobile devices with built-in 3G connections that allow you to access the Internet wherever you go, to video conferencing programs that you can use at home and at the office, and everything in between, today's technology has made it easier than ever to connect to people from all over the world, and it has also played an integral role in giving people — working professionals, in particular — the ability to go to college right from home.
All You Need is a Computer
The great thing about pursuing an online degree is the fact that you do not need to invest in a lot of expensive and really high-tech equipment to do so. A basic PC or Mac computer is all you need in order to connect to your professors and get assignments. You may need to use video conferencing programs that work like Skype in order to "attend classes" and see your professor and classmates, but this is not necessarily a requirement for every program and every school. With a computer and Internet connection and your books, all you need is your motivation and your determination to get the work done so that you can graduate on time and pursue your new career.
Video Chats to Connect with Classmates
With video conferencing, you don't need to miss out on any of the perks of being in a college classroom. The really great thing about video chatting with classmates is that you don't have to forego the interaction with them and your professor that you would have gotten if you attended a brick and mortar institution.
This interaction is really important because it develops a deeper relationship between classmates, which is important for group projects. And it also allows students to ask questions in real time with their professors, thereby possibly taking the current conversation in a different direction or adding to it in a valuable way. It all boils down to having the support of your professor and classmates in a virtual environment.
Art Classes Online?
Even art related degrees are now offered online. Several schools offer online programs in fields like graphic design, photography, and even videography. You have to invest in some extra equipment, on top of books, and you may need a more powerful computer and software to get your assignments done, but keep in mind that all of this equipment will be yours after you graduate, and you will certainly be able to use it to advance your career, so it is all a worthwhile investment.
More Schools Offering Programs Online
More schools than ever before are offering online programs. Some brick-and-mortar colleges are opening up their own online schools, while other schools are now available that offer nothing but online programs. And the degrees you receive from these schools are just as valuable and recognized as the ones from traditional schools.
Melanie Reeve is a writer who pursued a degree online and has no regrets because it gave her the education and skills that she needed to pursue a job that she loves: creative writing. She highly recommends looking into online programs, especially if you work and are unable to commute to class.