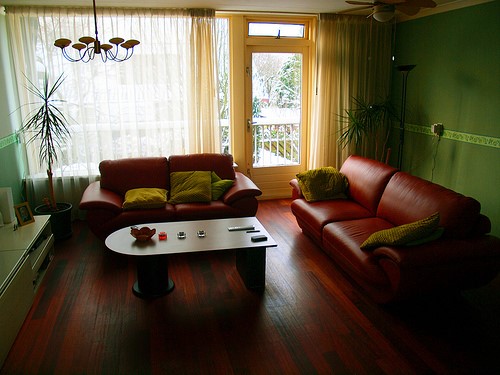 Image by zoetnet via flickr
There comes a time in a sofas life, when it has outlived its usefulness and needs to be replaced. This can be a sad time if you have a particularly comfortable couch, but it is also a time of new and better things, so don't dwell on the past! You will find a vast array of sofas at Plush, so you will be able to find something very comfortable, at an affordable price. With the vast array of colours and styles on offer, it will be easy to fit in with the decor of your home, and save you the expense of having to redecorate.
The Traffic
When you are looking to choose a new sofa for your home, whether it is for the lounge, or den, remember the amount of people that are going to be using it, as this will help determine the best option for you. If you have pets and young children, then you will be best of choosing an option which is easy to clean, spilt drinks and dirty paws can easily stain a fabric sofa, so maybe a leather sofa may be the best option.
There are some great fabric sofas available, which have heavy duty material. With the proper maintenance, this can also be a long lasting option. If they are treated with anti-stain treatments, then these can also be easy to clean.
Practicality
As much as you may have your heart set on an L-shaped, reclining sofa, if it is not going to fit in your home properly, you may have to think again, or get a custom made sofa which can be expensive. Choose a design, which is practical for your home, and fits in snugly. You may even get a reclining chair all to yourself so it could be better in the long run! Most sofas come in a range of different colours, so it is easy to get something in the colour you want.
Try and keep your sofa, or chairs, away from any fires, radiators or direct sunlight, as this will help it to keep its colours. If you are prone to accidents, then a bright white sofa may not be the best option, choose a colour which goes with your decor, preferably one of a darker tone. This will make any permanent stains that you may have, a lot less noticeable, in case you accidently spill red wine, or chocolate, on your sofa!
Easy to Clean
Where you can, you should choose a sofa which is going to be easy to clean, and maintain, keeping it in excellent condition for as long as you use it. This can be done easily by having a stain guard applied to your sofa, no matter what material it is made from. This preventative measure, along with regular cleaning, should help to keep your sofa looking great.
If you sofa has removable cushions, make sure that you can put these in your washing machine on a low setting as this makes things much easier. Above all, when choosing a sofa or a chair for your lounge or den, make sure that it is comfortable. You may just find your new favourite spot in your home!
Article by Venus Burias.