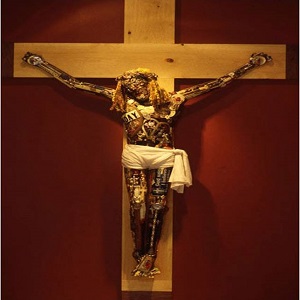 As we know, artwork is subjective and different pieces appeal to different people based on the way we connect with it. Art can be created from a palette of colours magically brushed upon canvas. Art can be the strength of a carved marble statue. Art can be the intricacies of a sketched portrait capturing the complex details of face down to the last freckle.
Or- Art can be created from the discarded odds and ends everyday people throw away and simply label junk. As the old adage goes, "One Man's trash is another man's treasure" and the following works of art prove just that!
Here is what we have named our top ten awesome artworks from junk!
1. Soda Pop Can Dragon—Jardin Des Plantes, Paris, France.
If you have ever been to Paris, France you have probably marveled at the beautiful, looming structure that is the Eiffel Tower, but did you take a walk through their botanical garden and catch this structural beast? Le Jardin Des Plantes features a dragon created solely of recycled matter including aluminum cans, plastic bags, and bottles. The French do have a way of repurposing things to make them chic and this amazing statue is no exception!
2. Nick Gentry's Floppy Disc Designs
The rate at which technology changes these days is astounding! We have gone from discs, to cds, to usb sticks, and now virtual storage. The wake of change and advancement has left behind waste which Nick Gentry has turned into a collection of masterpieces. His paintings use a number of discs strewn together to create a solid canvas on which we brings portraits to lift. Look at the detail of the eyes using the reverse of the disc to stand out with depth.
3. RoboSteel's Scrap Metal
Ever wondered what became of discarded parts of old planes, bikes, and cars? While most of them end up in junkyards, the Irish-based RoboSteel has given new life to old transport. They hand-weld unique steel pieces to reproduce sculptures of move characters, vehicles, and more. Looking for a life-sized transformer? A custom stationary motorcycle? Contact RoboSteel to bring your sci-fi dreams alive!
4. Steven Rodrig's Circuit Board Creations
Computers are designed, redesigned, and last year's model quickly becomes obsolete with the advancement of software, hardware, and sleeker units. Cuban-born Steven Rodrig works with old circuit boards to createsculptures for his PCB (Printed Circuit Board) Mixed Media Collection. His pieces have witty names such as the one above, "Sea Turtle Searches for Deep Data" that reflect both the old and new life of the discarded matter.
5. Collected Crap to Creative Collage!
Boston native Tom Deininger turned in Honors Art degree into a collection of pieces fashioned from odds and ends found among household junk. When zoomed in to a specific area of one of his pieces you may see old shoe soles or plastic utensils, but when observed as a whole his 3 dimensional pieces have an amazing effect!
6. Tired tires become fierce beasts in the tire art of Yong Ho Ji
Yong Ho Ji was educated in both Seoul and New York blending his eastern and western palettes to bring life to a variety of wild animals from the discarded rubber of old tires. His exhibitions can be seen all over the globe.
7. The celebrity faces of Iri5 (Erika Iris)
Erika Iris Simmons who goes by the moniker Iri5 was born in the 80's when cassette tapes were all the rage, along with the artists they paid tribute to. She has found a way to repurpose the obsolete cassette while showcasing some of the famous faces of the music world. Along with her tape designs, she experiments with additional non-traditional mediums such as dollar bills.
8. Found to Fabulous Guerra De La Paz
Cuban born artists Alain Guerra and Neraldo de la Paz use recycled and found objects to create creative works of beauty. Their work, made heavily from discarded garments, often conveys messages relating to social issues along with iconic or historic themes reinvented in their three-dimensional visions come alive.
9. Junk Sculptor Leo Sewell gives garbage a new look
Leo Sewell grew up near a dump, played with garbage for fun, and now takes it around the world to show off the intricate designs of his household waste sculptures. Everything from crayons to coasters can be spotted in his mixed media works.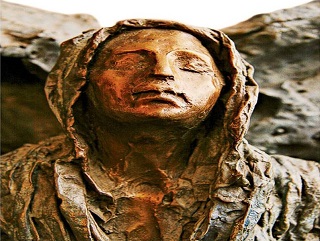 10. From war path to peace, Lin Evola's melted down weapons become social messages to end violence.
American Artist Lin Evola attempts to bring awareness to guns and other senseless violence, first in LA where she founded the Peace Angels Project. She collects surrendered weapons from government organizations and melts down the metal to create messages of peace and hope like the Renaissance Peace Angel seen above, initially crafted in the tragic wake of 9-11. To view more repurposed peace works, check out Evola's website.
Now you have seen what garbage collection and a creative mind can achieve, what can you make with your own collection of found objects?
Margaret Perron is an appliance repair do-it-yourselfer, home solutions enthusiast and a home maker. With over 10 years experience in the home improvement business she is well suited to advise you on the best solution for identifying and locating the best home services in your area.