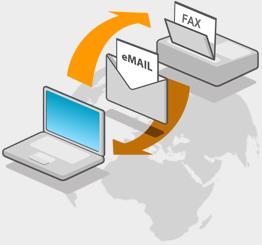 For many years, businesses have relied on fax machines to get important information to others quickly. As time goes on we are always looking for a solution and impressive ways to save money, time and be more productive. The fax machines these days are not convenient nor affordable compared to the brand new methods of file transmitting online.
Internet faxing has become a new trend for small and large businesses because you can send your data quickly and inexpensively. Many people are unaware of the online faxing services, and they could be taking advantage of the great benefits that these services offer many companies.
Enjoy Affordability
All of the old standard fax machines require for a phone technician to come into the office and create a dedicated phone line. The new phone line in turn gives you an added bill to your office plus you usually get charged for long distance faxing. The fax machines also need to be regularly maintained to prevent any failures or breakdowns.
The device is in need of frequent toner refills, which can be expensive for any business in the long run. If you added up all of your toner receipts for one entire year, you would be surprised! The business faxing services will eliminate these devices and the costs that come along with them.
Convenience And Peace Of Mind
The traditional faxing procedure always requires that a fax machine must be present and that there is someone there to operate it. The internet faxing service only will require your office to have a hand-held device and a working internet connection, which most offices already have. You will then be able to receive and send data from where ever and when ever you want to. Transferring your files by the internet will help confidential data from being lost, left behind or accidentally thrown away.
Efficiency
You will be pleased with the online faxing service because they are capable of sending and receiving multiple faxes at one given time. You will never have to worry about leaving a fax behind at the office because you can get access to your files off of your smart-phone or your laptop. You can be on the go and still view that crucial fax that you have been waiting for. The standard fax machine will only get one job processed at a time, and you are relying on the office staff to send it out.
Go Green
The online faxing service offers a greener way of doing things because you are cutting down on paper consumption. It will eliminate the copying of documents because you can view them right from your computer screen. You don't have to worry about all of those standard fax errors that print out an error statement, wasting even more paper.
One thing that is great when you are searching for a online faxing service is that most of the companies will offer your business a free trial. Once you try out the free trial you then can pick the perfect package that will benefit your business.
Today's post was provided by Brian Sorel who is a freelance writer currently working for www.FindAFax.com. As a graduate from Rollins College, Brian's resourceful nature and diverse interests make him an asset to their team.