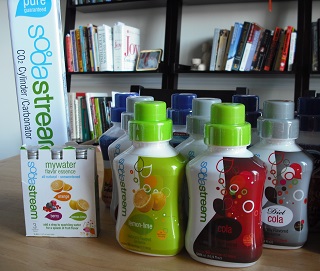 In what many view as a reversal of course for the world's largest soft drink brand, the Coca-Cola Company has announced its intention to move into home soda-making technology, as part of a new alliance with Keurig.
In recent years, the company had made news through its frequent public disputes with SodaStream, the biggest name in home soda-making technology. The two companies have feuded over the content of SodaStream advertisements, which frequently mention traditional soft drink manufacturers Coke and Pepsi by name, and make reference to the environmentally unfriendly nature of manufacturing bottled soft drinks.
A SodaStream commercial that was supposed to run during the 2014 Super Bowl was rejected by Fox, a move that SodaStream CEO Daniel Birnbaum said occurred because the broadcaster was "afraid" of Coke and Pepsi. A different advertisement that did not mention either of the soft drink giants by name was eventually run instead.
Now, a company that had previously seemed determined to stand by the bottled soft drink business model has announced that it will purchase 10 percent of Green Mountain Coffee Roasters, the parent company of the single-serve coffee maker brand Keurig. As a part of the deal, the company will begin offering Coca-Cola-branded home soda offerings for the Keurig Cold, a new cold-beverage maker that is scheduled to be released in fall 2014.
According to Jason Hope, the move is an exciting one, as it represents an increase in choices for consumers.
"It always makes me nervous any time I see a company like Coca-Cola act like they're so big they can control the course of technological innovation," said expert and entrepreneur Jason Hope. "Now, they're finally demonstrating that they get it: this technology has existed for a while now, and SodaStream has proved with the success they've had that it's not going away any time soon. This decision by Coke shows that they're finally willing to let their customers decide how they would prefer to consume Coke products, rather than dictating to them how they will consume Coke products."
According to company reports, the new Keurig Cold will make a variety of cold beverages using a pod system similar to the one used in the company's popular coffee brewing machines. The company also says that the Keurig Cold will have the ability to produce carbonated beverages without the need for CO2 canisters. It is unclear exactly what kind of technology the new machine would use to accomplish that feat, but if true, it could be a key differentiator over the SodaStream beverage maker, which does require the use of CO2 canisters.
With so many of SodaStream's advertisements billing it as an environmentally friendly alternative to purchasing bottled soft drinks, having a product that removes the need to replace a CO2 canister could give Coca-Cola a leg up in the race to create a less wasteful beverage. In addition, SodaStream requires its customers to use a proprietary CO2 canister that cannot be refilled by independent CO2 vendors, so a machine that does not require the use of CO2 at all could potentially save its users a lot of the money and hassle that goes along with using the SodaStream machines.
In addition, SodaStream's frequent squabbles with Coke and Pepsi have left it without a recognizable brand name to drive its cola products. Although the company does have partnerships to offer products under brand names like Country Time and Kool-Aid, the majority of the company's drink options are offered under generic names, which could be an impediment in an industry where companies like Coke and Pepsi have spent so much money building brand recognition and loyalty.
Coke's decision to compete with SodaStream in its own game is both a challenge and an opportunity.
For years now, SodaStream had tried to pitch itself as a group of scrappy outsiders who are trying to revolutionize the beverage industry, now it's no longer a matter of how consumers want to get their soft drinks. Coke is now going to offer its customers the choice, and it's up to SodaStream to prove they can do what they do better than Coke can.
About The Author: Melissa William is a philanthropy and business writer. Melissa began her career as a small business owner in Scottsdale, Arizona. She has taken that knowledge and experience and brought that to her unique writing capabilities. She really enjoys new business related issues that are tied directly to philanthropy.