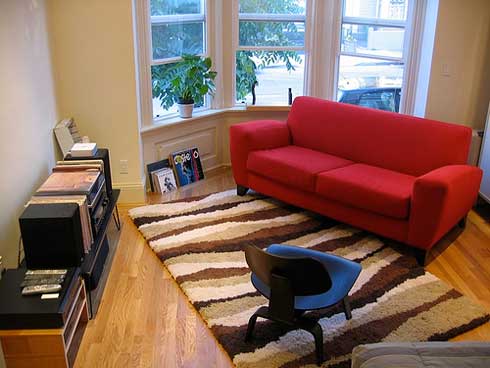 Everyone's home is slightly different. There's no getting away from that. Not every home is the kind of giant New York loft apartment you might find in interior design magazines. The majority of contemporary furniture is designed with larger spaces in mind, so it can be quite difficult to express your personal contemporary taste in a smaller apartment.
We've put together a list of tips to help you make the most of the space you have:
Mirrors
Mirrors can work wonders in a small apartment. If correctly positioned, they can emphasise light and space, as well as having their own inherent contemporary aesthetic value. The obvious places for mirrors are in the bedroom and bathroom, but they can be just as useful for emphasising space in a small living room area. An eye level mirror on a side wall, which reflects a window, will give an instant feeling of space as soon as you walk through the door. Try to avoid positioning a mirror on the opposite wall to the door as this will give the impression of shrinking the room, which is the last thing you need!
Side tables instead of a coffee table
Surface space is one of the most key factors in furnishing a small apartment. In a larger apartment, a coffee table is a nice way to break up space; however, a small apartment requires the opposite treatment. You can't afford to waste the largest surface at your disposal: the floor. Side tables can provide all of the functionality of a coffee table, but will enable you to utilise the flow of space through the middle of your living room. If you find the floor space a little cold, you could try adding a contemporary woollen rug as a compromise.
Lighting
Light is everything when it comes to designing and making the most of a small apartment. It's quite simple – the more you can see, the more space your eyes are aware of. In a large house, you can get away with low level lighting and dark corners. In a cosy apartment, however, every centimetre counts. It's well worth getting some built-in spotlights installed. The range of light will help to brighten every corner of the room, while the lack of hanging lamp (and shade) will allow the space directly above your eyes to remain uninterrupted.
Storage
Surface space is your most valuable asset in a small room, so it shouldn't be wasted on storage. In order to keep all surfaces flowing and clutter free, you must make sure you have plenty of storage. Finding dual uses for storage space is often the most effective method. Using a trunk as a side table or nightstand is a great way of utilising the space within your furniture, rather than just on the surface. The same goes for ottoman, which make really handy TV tables and can store less used household items. The key with storage is to be as imaginative as possible, while also coveting furniture surfaces.
Get creative with your seating
The most difficult furniture to choose for a small apartment is, without a doubt, the seating. Sofas and armchairs take up so much floor space that you risk overcrowding your living room. Much like with storage space, a little creativity is needed in order to make the most of the space at your disposal. A common area where space is wasted is within a bay-window; instead of being a demi-mantle, it can be turned into functional seating using only a couple of cushions and blankets. If you don't have a bay window or similar unused space, why not invest in some simple fold-away chairs to store underneath your sofa? This will enable you to increase seating capacity when necessary, but won't take up valuable floor space.
Citations:
Alex Greenan is the lead blogger for 4 Living, one of the UK's leading independent retailers of contemporary interiors and furniture.