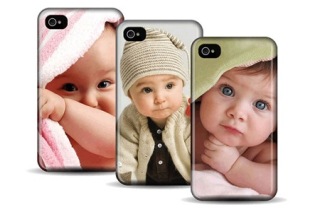 One of the most popular products in recent times has been the personalised phone cover. Given the massive popularity of mobile phones, it shouldn't be a surprise that there has been a great deal of interest and popularity in choosing a product that works perfectly well alongside the mobile phone.
Of course, there is a lot to be said for adding a personal touch to a product that is so commonplace and this is why so many people across the entire world are opting to buy a personalised phone cover.
Before you decide on a cover, there is a lot to think about. You need to think if you want a picture of yourself, of you with friends or do you want a picture of something that you love and have an interest in? There are many different ways in which you can personalise your phone and your only limitation is your own imagination and ideas. However, there are other things to think about when choosing a personalised mobile phone cover, and these are some of the most salient points you should be bear in mind:
The size of the cover
The fit of the cover
The quality of the cover
The amount of screen protection your cover provides
All of these issues are important when looking to find the personalised phone cover that is perfect for your needs.
The size of the cover
For a personalised phone cover to be effective, it has to be the right size and prove to be an effective fit for your phone. This is why it is important to know the make of the phone that you have and the size of it. A mobile phone cover that doesn't fit snugly or is too small for your phone will be a waste of money and it will provide you with none of the benefits.
It may sound like a straightforward task to take care of but if you don't get the size right when you are looking to buy your personalised phone cover, you may as well not bother! With most popular mobile phone brands, you should find that there are plenty of options to choose from but if you have a niche phone or one that is not a common size or shape, you may find that you struggle to find a cover that is the right size.
The fit of the cover
Of course, once you find a personalised phone cover that is the right size, you shouldn't take it for granted that it will fit around your phone. For the cover to be a good fit, it needs to wrap around your phone snugly while still leaving the buttons and screens to be accessed easily. If you have issues with these factors, you will find that using your phone becomes a hassle and a hindrance, which is against the point of having a mobile phone. Once you have a cover that is the right size, you are moving in the right direction but you need to ensure that your cover is a good fit as well.
The quality of the cover
If you are buying a cover for your phone that has been personalised, you want it to be good quality. You want the image to look sharp and for the cover to be durable and reliable. There are plenty of great phone covers to choose from, but there may be some bad phone covers out there as well. If you take the time to weigh up your options, you'll definitely find a brilliant phone cover, but be sure to not rush in and grab the first one that you see.
The amount of screen protection your cover provides
When it comes to keeping your phone in good condition but being able to use it as well, you need to make sure that you have a good level of protection on your screen. This is something that you can find in an all-in-one package or it may be that you decide to buy a spate screen cover to apply yourself. Given the affordable nature of these covers that you apply, it makes sense to invest in a couple to ensure you get the best level of protection for your smart phone so you won't need to spend money after on repairs.
My name is Nicola and i have interests in health & fitness, technology, family matters and interior design.