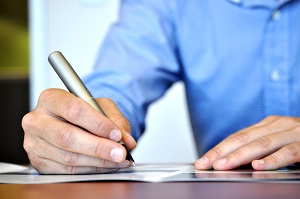 No matter what the size or industry of your business, you should think of workplace photography as a useful resource for expressing your brand image. It enables prospective clients and customers to better understand who you are, and helps people identify you as more than 'just a business', but as a team of real individuals, whom others can identify with.
Photography adds the 'human' dimension to your business
If you do much of your day-to-day business online and rarely meet your clients or customers, how will they know who you are or, more importantly, that you are even a legitimate business? People will always find it easier to approach your company if they have access to a 'meet the team' or 'about us' section, where they can view the profile and photo of each person and get a feel for the people who will be responsible for the job.
Sometimes, people don't have time to read all the small print, whether it's your brand vision, you latest awards or your skills and methods. No matter how many phrases you use on your website to promote your business and market it with words like 'professional', 'expert', 'dedicated' or 'customised', a professional photo can prove more effective because it can demonstrate all of these key phrases through instant imagery.
A photo really does paint a thousand words, a thousand observations, a thousand judgements
Don't underestimate the sheer power of imagery. One photo can 'make or break' your business. For example, if all the members of your team wear smart suits for work, would it not appear inappropriate for them to wear casual attire in their profile photo? Likewise, if your business culture is more informal, and you want this to be reflected in your brand image, then make sure your team profile photos reflect this and don't look overly formal.
Unprofessional photos can paint many negative connotations like sloppy, uncompetitive or slow, while professional photos evoke smartness, competitiveness and punctuality (even when you don't know the business and can't necessarily prove that it is competitive and punctual!).
Are you looking to recruit soon?
While the competition for jobs in most industries remains stiff, and many new job applicants are still having to compete against dozens, sometimes hundreds of other candidates, remember that you are also selling your business to these individuals as well. A comprehensive, professional photo portfolio of your team and your business venue will always provoke more interest from prospective job candidates.
This will also make it easier for recruitment agencies to promote your business to their clients, enabling you to attract more talent. People don't usually view a house or a car without having observed a photo of the product in the first instance. The same kind of rule usually applies for people looking for a new job as well.
Market your industry
If your business is an industry that is often associated with long hours, high pressure situations and challenging deadlines, try to challenge this notion by creating a positive image of your company and demonstrate the opportunities that are available to prospective candidates. For example, including a short profile description of a team member who has recently been promoted and is happy with his or her success should obviously be demonstrated in the individual's profile photo.
Finally, if you're currently using stock photos, remove them now!
Nothing appears more generic and uninspiring that a set of cold, mindless stock images of workplaces, none of which represent your brand or say anything specific about you and your team. They may be cheap, but they'll do little to help you market yourself to new clients and customers. With professional photos of your own workplace, you can help people discover what your business is really about, what you stand for and what makes you better than your competitors.
Simon Carr is the founder of Kar Photography, which offers creative imaging solutions (including workplace photography) to corporates in Essex and London. He's witnessed the rise of workplace photography first-hand and this kind of work now accounts for a large percentage of his business.