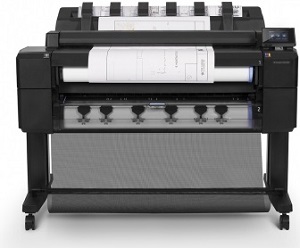 Well respected in the printing industry, HP Designjet printers meet and exceed the expectations of users engaged in all sorts of graphic design. Many of their printers offer the ability to produce clear, quality images and do so very quickly. As technology improves, the Designjet series of printers continues to keep up and produce some of the best printing solutions for graphic designers.
Designjet In The Architecture And Engineering World
Architects and engineers work in a world that demands superior printing technology. HP Designjet printers offer a wide range of large-format printers for those in the design world. They can produce high quality blueprints and other documents including CAD drawings and highly intricate maps. These printers offer users a variety of options as well including the ability to print and share from a mobile device or print from remote locations. These printers such as the T2500 and T1500 are perfect for those engaged in these professions.
Photographers Use Designjet
Photographers are always looking to expand their creativity and one of the things that can assist is a high quality printing device for their prints. DesignJet's Z5400 or Z5200 are the perfect choices for the high volume photographer whereas the Z3200 and Z2100 are more for mid-volume usage. No longer does a professional need an external lab to process their pictures. Any of these printers are capable of producing colour, black and white, proofs, or even design mockups.
Designjet For Sign Making
The best in graphics is necessary in the sign making industry and DesignJet's wide range of products can allow users the opportunity to separate themselves from the competition. Whatever the need may be, vehicle graphics, outdoor advertising displays, and more, such printers like the TJ8350 for high volume applications and the Z5200 for low volume users give users an edge against their competitors. With these printers, users can count on super sharp, beautiful graphics on huge building covers or even retail point-of-sale displays.
Event, Trade Show, Marketing Graphics
For those in the advertising business, HP Designjet printers once again give users an advantage. Users can produce promotional displays or visually appealing advertising posters that can be used in a retail environment to influence shoppers in their decision making. With color matching and high quality printing, this brand of printers and presses give advertisers a distinct advantage over their competitors. The high volume presses like the TJ8600 and the FB10000 are used in a high volume context and HP makes printers for both mid-volume and low volume users.
Conclusion
The bottom line when it comes to printers is the ability to produce clear, high quality, colourful, visually appealing graphics. Whether it is for a photographer, an architect, or a graphic designer, HP Designjet printers have the solutions available to give anyone an edge. They have a full suite of products designed specifically to the meet the needs and demands of users. There is not an application that HP Designjet cannot deliver.
By Sarah; an article writer interested in topics related to computers and printers, exploring how HP Designjet Printers can give graphic designers the edge