During the winter months the sun shines less and the children stir more. It can be really difficult to think of activities to do with your family and friends during this season. Don't let the winter weather get you down! A great way to keep your spirits up while the temperatures are low is to create your very own ice rink.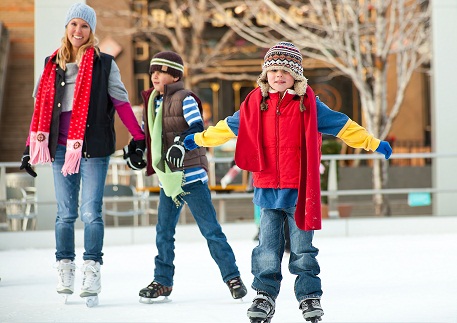 Creating an ice rink of your own works as a double fold activity. First, you get to plan and create the rink and then you can put on some ice skates and show off your best skills. This proves to be countless hours of holiday cheer for everybody.
An ice rink is a lot of fun, but also a lot of work to create. Here is a step-by-step guide to creating your very own ice rink. There are a ton of ice rink types out there, but we'll focus on a traditional ice rink. This ice rink has been around forever and has occupied many a stir-crazy children and adults.
The size and location of your ice rink matters. You need to take into account where the ice rink will be. Perhaps you have an area in your yard or maybe a community area that is open to the public. Remember, the ice rink doesn't have to be huge, but it needs to be big enough that a few people can comfortably skate or play a game of hockey. Remember, don't' build an ice rink on someone else's property without permission. While we think a giant sheet of ice is great, not everybody feels this way.
Some of you may be fortunate (yes, fortunate!) enough to have a sheet of ice in your yard, but for the majority of people this isn't the case. Making ice doesn't require you to morph into Mother Nature. Instead, simply pack down that mountain of snow that has taken residence in your yard. This is the fun part! Children especially like to stomp, shovel, and repeat until the snow is as flat as possible. The trick here is to make sure they don't realize how much work this is.
Invite as many people as possible to join in because this will take some time. Just promise to let them take a whirl on your ice rink and most likely every neighbor in your community will show up! Make it a game for children (and even adults!) and keep the cheer alive. Next, once the snow is packed down drench the snow with water. Be sure to keep yourself and others dry as it is not safe to get wet in low temperatures. Frost bite is serious business and will certainly put an end to your ice rink fun!
Allow the water to freeze. Depending on temperatures this could be minutes, hours, or maybe overnight. You don't really have to always depend on snow removal service in your area and wait for them to clear it all away. Instead, you can make good use of it by transforming it into a reason to have fun!
An ice rink is a great way to entertain your children, get out of the house, and just have some good old fashioned fun with friends and family. Winter months can be hard to get through, but with something as cool as an ice rink—those months will fly by!
Deborah Salinas is my name and I am a contented homemaker who works from dawn to dusk for the well being of my family. I love everything which makes my home look elegant and stylish. I am an absolute family person and I try my best in bringing down heaven within the four walls of my home. I live with my husband and two handsome sons in Toronto. Find me on https://plus.google.com/u/0/100396584227263260749/posts