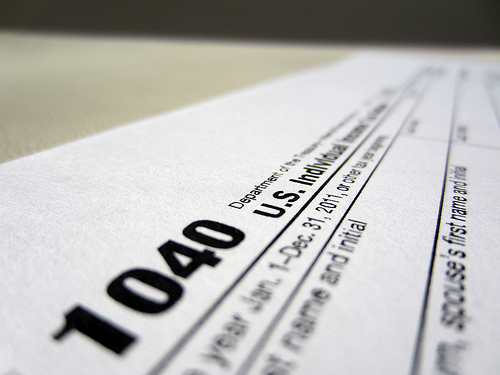 People move for many different reasons. It may be because of an expanding family, or to get farther away from the in-laws. Whether you're moving to Boston to San Francisco or just across town, one thing is for sure, moving can be an expensive and time-consuming process. However, you may be eligible to get some tax benefits from Uncle Sam. The IRS does allow "reasonable" moving expenses to be deducted from your federal income taxes depending on certain criteria being met.
If you moved out of state or across town last year due to a new job or because you started a new business, your moving expenses may qualify for a tax deduction. The good thing is that these expenses are top line deductions, meaning that they are deducted from the total amount of gross income. As a general tax principle, the lower your income, the lower your taxes. Certain criteria must be met in order for you to qualify for this deduction so pay attention, and hopefully you can save some money.
First of all, your move has to be job related. So if you moved because your mother-in-law was driving you crazy, sorry, can't help you. But hey, now you got some peace and quite, right? Just be prepared for the extended visits.
In order to be eligible for the moving expenses tax credit you must meet these two criteria. I'll go over these in more detail.
1)     Distance test
2)     Time test
Distance Test
The IRS requires that the commute from your old home to your new job location be at least 50 miles longer that your old commute. For example, your commute from your old residence to your old job locations was 10 miles away. To qualify for the tax deduction, The commute from you old residence to your new job location must be 60 miles away (60-10=50).
Time Test
The IRS requires that you work 39 weeks (around 10 months) of the first twelve months after your move. This does not mean you have to be at the same job, but you have to have a full time job in the same area. You can deduct your moving expenses on your 2013 tax return even though you have not met the time test by the date your 2013 return is due. You can do this if you expect to meet the 39-week test in 2014.
Allowed Deductions
– The cost of packing and transporting your stuff. For example, if you hired a professional San Francisco moving company to move your stuff to Los Angeles, the bill they charged is deductible.
– Lodging cost. If you moved out of state and needed to roost for a couple of nights. The cost of the room is deductible.
– The cost of storing your belongings for no more than 30 consecutive days after the move.
– Animal or car transport.
– If you drive yourself, you can take a standard deduction of 24 cents per mile. If your good at keeping records you can deduct all your expenses from fuel, oil, tolls, and parking.
-Storage for up to 30 days
Not Allowed Deductions
– Meals on your trip
– Auto depreciation and auto insurance
– Multiple trips. Only one trip for you and your household members are allowed.
If you have any more questions talk with a tax professional, or consult the IRS website.