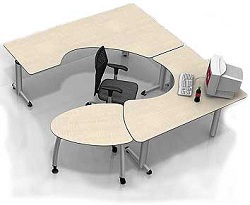 Anyone starting a new business has a lot to think about, and furniture probably wouldn't be high on the list of things they want to devote their attention to.
Nonetheless, the office needs to be furnished; and the type of furniture you buy can have significant influence on the productivity of your employees. In fact, choosing furniture for your office is one of the most important decisions you'll need to make at the start, as the working space will be the foundation of your business success.
Here are some of the things you need to take into account when acquiring office furniture:
Comfort: You and your employees will be spending most of your time here, so naturally you'll want the furniture to be comfortable as well as functional.
This relates to the concept of 'ergonomics', which refers to the relationship between employees and their environment, and how certain elements of the environment can help or hinder their performance. Ergonomics is something you'll want to keep in mind when planning office furnishings, as naturally the comfort levels of your employees will affect their productivity.
Appearance: The furniture needs to make the desired impression, not just on employees but on clients visiting the office as well. What kind of impression you're hoping to make obviously depends on the service you provide, but in most cases you'll want an office space that looks professional.
Either way, office furnishings is just one of many elements that should be planned in accordance with the image you have in mind for your brand.
Quality: You're hoping to be in this for the long haul, and replacing broken furniture is not something you want to have to accommodate into your budget. Ensure that the furniture is durable, so that it will last a long time. You also want to be able to move the furniture around without breaking it, as a time may come when you need to relocate or renovate your office.
Adaptability: In addition to being durable, the furniture should also be easily moveable. You want the furniture arrangement to remain flexible, so you can reshuffle things if you ever need to incorporate new equipment or staff .
Space: The size of the office needs to be taken into account, as well as the amount of space that employees will need. Bear in mind the amount of activity that usually goes on in an office, and ensure that room is set aside for people to move around in and engage in various work-related activities without disturbing each other.
Functionality: Remember that an office is a functional space, where pragmatism rather than aesthetics should be the governing principle. The type of furniture, and the furniture layout, should be geared towards fulfilling the objective of the company.
Furthermore, the furnishings should be designed to help employees fulfil their functions. For example; desks with lots of room to work, and with space for storage, including drawers, cabinets and computer stands. Room should be set aside for shelves, filing cabinets and tables where miscellaneous objects can be placed; anything that helps the employees organize themselves.
Be sure to test the furniture as well. Try it out yourself to make sure it's comfortable, and do some research on the suppliers and product line to see what kind of feedback they've gotten from other customers.
The type of furniture and the manner of its arrangement may seem a small thing at first, but a good businessman knows that all the small things add up to a larger goal.
Matthew Flax writes about the importance of office furnishings, especially swivel chairs. Because where's the fun in being boss if you can't swivel to face the door at the exact moment someone enters your office.