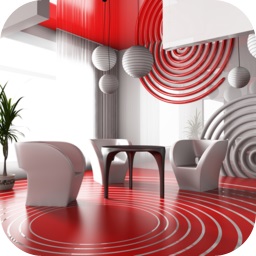 The living room is the room in which we spend most of our waking hours. We use it to relax and unwind, as well as to socialise and entertain. In order to help you achieve a multi-purpose contemporary living room, we've put together a list of common mistakes to avoid:
Designing your whole living room around your TV – We live in an age with 24 hour television but that doesn't mean the TV should be the focal point of your living room. Aiming all of your seating at the television will destroy the sociable atmosphere of the room. Remember, your living room is the communal hub of the home, and as such it is a showcase for the entire interior. Try concealing your television in a cabinet or behind an Oriental style screen.
Putting aesthetics ahead of functionality – Furniture should not only look beautiful but it should also fulfill a purpose. A lacquered side table looks delicate, but is extremely durable and practical and will provide just as much contemporary style to your home as a solid wood table. Opt for something too fragile and expensive, however, and you won't get the everyday use out of it.
Mixing too many styles – Great pieces of interior design inspiration can be found pretty much everywhere, on the internet, in shops and in magazines; so when it comes to redesigning your interior, it can be hard to narrow down your choice. Some styles just aren't designed to be combined with others, so you have to be exceptionally particular when mixing. If you start with a minimalistic template, it's easy to add eye catching accessories and furniture, such as colourful contemporary items or ornaments inspired by the Far East. If you start with a strong Art Deco theme, however, it can be very difficult combine other styles, such as rustic or Oriental, without the overall result looking eclectic and muddled.
Going for too much of a 'theme' – Giving your living room a rigid theme can be a risk which simply isn't worth taking. Designing or redesigning a whole room takes a tremendous amount of time and money, and isn't something you want to be doing annually. Themes can take trends too far and create an interior with strict uniform. By all means go with the trends, but make sure your interior has scope for change. When your home needs a revamp, one low cost way to do this is to update the soft furnishings such as the cushions, throws and rugs.
Forcing a trend upon a room –A great example of forcing a trend upon a room is the use of a feature or accent wall. Some rooms have one dominant wall, in which case an accent wall is an excellent way to create a focal point. Sometimes a brightly wallpapered side wall can create a strong imbalance in the room and the effect looks confusing and cluttered, which isn't compatible with a relaxed and tranquil atmosphere.
Not giving everything a home – In layman's terms, a home is somewhere to live and to store your possessions. Make sure that you have enough storage space to keep those useful but less appealing items that you won't necessarily want to have on display. If you don't have a home for everything, you might want to think about de-cluttering or investing in more storage furniture.  The alternative is a house full of clutter, which can ruin all the hard work you have put into designing your interior.
Citations:
Roger van der Matten is Home Product and Design Director for UK based contemporary home furniture company 4 Living.