Remodeling your kitchen will not only add value to your home, it will more importantly enrich your lifestyle. Having a beautiful and comfortable kitchen has the potential to bring your family closer together and make your cooking experiences rewardingly enjoyable. For a successful kitchen renovation project, here are ten of the most important tips you need to keep in mind.
Video Source: Howdini
Shop Around For the Most Suitable Contractor
There are many kitchen design experts and contractors in the market and almost every one of them is talented in his/her own way. Nevertheless, this kitchen is not for the designer, it is for you and members of your household. You know best what you like and what your family likes and how everyone uses the kitchen. Find a contractor who will follow your particular specifications and cater for your unique needs. Get bids from various contractors but remember while price is important, it should not be the only criteria for picking a contractor.
Run Checks on the Contractor
Once you have found a contractor who fits your particular needs and comes at the right price then you need to ensure that you really are getting what you are paying for. You do not want to hire a contractor who disappears immediately they get the first payment. Or one that promises a heavenly kitchen only to leave you with a disgusting, unusable hell hole. Before signing up the contractor, ask for the current insurance coverage details and license information
Verify the extent of liability and workers compensation. Ask for the contractor's list of suppliers and check that they always pay their bills on time. Check out the list of their past clients and talk to them to find out if they got the result they had envisioned. Find out if they cleaned up after construction and whether the workers always showed up on time. Importantly, also check with the Better Business Bureau or the Consumer Protection Office if there are complaints against the particular contractor.
Pay In Stages
Paying upfront for work that has not even begun is usually a recipe for disaster. To avoid unnecessary drama, conflict, and disappointments, you need to sit down with your contractor and make arrangements for a suitable payment schedule. Make the schedule fair by pegging each payment on the successful completion of well-defined stages. For instance, you can set it up such that you pay in 4 installments where the first deposit is paid when the flooring is complete, the next when the cabinets are fixed, the next when the countertops are completed, and the last when the entire project is completed. The final payment should only be made when you are entirely satisfied with the final product.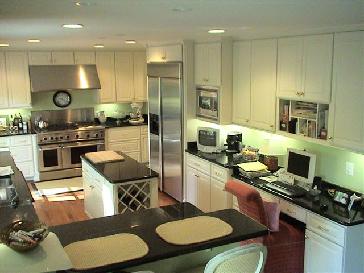 Use Quality Materials
If you want to get the best out of your kitchen then you need countertops that will not scratch, drawers that will not stick, floors that are not slippery, and cabinet doors that will remain closed. You need to pick materials that suit their purposes and that are durable.
Choose Great Countertops
Stained wood and marble are elegant countertop materials and work well for most kitchens. Quartz and granite remnant Maryland are also beautiful countertops and they are stain, scratch, heat, and water-resistant.
Install a Functional Kitchen Island
The best of a kitchen island is one that is spacious, airy, and open. You should avoid having a bulky cube full of kitchen appliances taking up the center of your kitchen space. If you want to include a dishwasher or a cooktop then make sure it does not crowd the island.
Choose To either Stain or Paint
Staining wooden kitchen cabinets is popular due to the aesthetic value and the elegance it provides a kitchen. However, staining does not last long and cannot be easily changed. Brush-painting your kitchen cabinets offer a more long-lasting effect and can be used to express your kitchen's unique personality.
Avoid Design Excesses
The kitchen is a highly functional room and needs to be efficient. It is quite okay to want to beautify this important room but avoid going overboard with the design details. Too many decorations will not only be an overkill but may also be hazardous in a room that will be used for handling hot and sharp objects.
Decide On Cabinet Sizes
Cabinets going up to the ceiling are great in that they increase storage space and do not accumulate dust on their tops. Nevertheless, they only work well with 8ft ceilings. For kitchens that have their ceilings higher than 8 feet, it is best to leave some space above the kitchen cabinets.
Consider Future Maintenance
Try to strike a balance between surfaces that are easy to clean and those that do not show stains as much. A white laminate counter will highlight any stains but is easy to clean. A granite remnant Maryland is both easy to clean and stain-resistant.
Renovating your kitchen takes careful planning and constant coordination between the homeowner and the kitchen design expert or contractor. To successful create the kitchen of your dreams, use the above top tips for a trouble-free project.
When Alison Blair became a carpenter in the largely male-dominated field she found it challenging and took to it with gusto. In the 8 years since, she has made a name for herself and now employs 32 staff. Her kitchen cabinets are all the rage and are usually pre-ordered many months in advance.