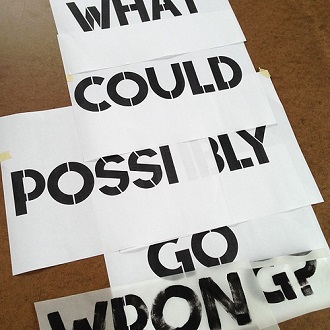 If there's one thing I learned at university – besides how to produce essays from scratch during the hours between midnight and dawn, and the art of smothering economy canned tuna in a variety of sauces to trick my brain into thinking I had a varied diet – it's that photography students hate Instagram.
Picture the scenario: you invest years of your life in learning the ins and outs of a craft only to find that every hipster in the nation can take a snap on their iPhone, slap on a light filter and come out with something that's superficially just as good.
For the longest of times, the major advantage of old-style photography was its versatility, unfettered by the file and resolution constraints of the crude and primitive iPhones we were using back in 2010. But now we're past those primordial times and well into the sparkly new future of 2013, where Instagram doesn't have to be relegated to low resolutions and screen displays – and turning your sepia-spattered snaps into wall-ready prints is easier than ever.
There's a great selection of options in terms of turning your Instagrams from phone art to real-world art, and often all you need is a link and a vision. Let's take a look at a few of the possibilities on offer:
1.  Printsgram
If you're going for breadth of options, this is an excellent place to start. Particularly if you want to go for something a bit more creative than mounting individual pictures, and feel like branching out into grids, collages and panoramas. For many of us, our Instagram is more than an archive of pictures, it's a stream of moments, so why not preserve it that way?
2. Hatchcraft
Hatchcraft specialises in smaller (four to seven inch) prints in rustic looking, bamboo frames. Great if you want to transform your digital snaps into something more naturalistic.
3.  Canvaspop
These guys are the canvas printing specialists, highly useful if you're going for a sleek, arty modernist vibe with your wall prints.
4. Do it yourself!
If you have your own ideas that you can't find catered to in the marketplace, or you just like the DIY-aesthetic that draws so many of us to Instagram, you can always prepare your own prints with a little practice. You'll need the glossy kind of photo paper, as well as high quality ink for printing it out (all things you should be able to find in your local cartridge shop).
All you need to do is get the high-resolution versions of the images you want out of Instagram's camera roll. You can find them and email them to yourself, or download them straight into your hard drive with an online viewer like Instagrid. Once you've picked the ones you want, all that remains is to get them to the right size and scale using a photo editing program, and you're ready to print.
These are just a couple of options to give you an idea of what can be done – there are whole swathes of examples you can find online for inspiration, whole Pinterest boards full of projects and ideas out there for the aping. If there are any ideas you've tried out with printing from Instagram, or that you'd just like to share, you should let us know – feel free to drop us a comment.
Ed Hitchman tried to coin the term 'iPhoneographer', but gave up on doing so upon discovering the word had already existed for two years.