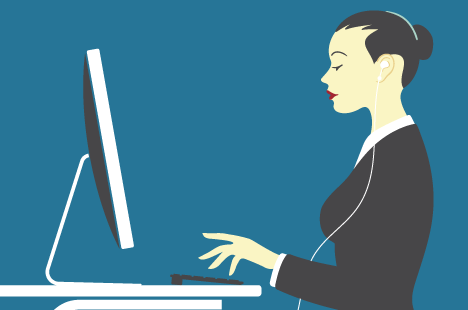 There is a growing demand for audio typing services, especially to companies that are in need of administrative personnel. If you are hunting for a rewarding job, then you can try your luck in this industry. As an audio typist, you will find opportunities in medical facilities, federal agencies, as well as content-driven service providers. Here are some of the positions you can apply for as an audio typist.
Court Reporter
This in one of the job positions that is suitable for audio typists. Court reporters are required to participate in court trials to type and make a written report of all the discussions that unfolds throughout the session.  If you are planning to pursue this career path, you need to learn how to use the stenography machines, a device commonly used in legal systems. As a court reporter, you may be expected to transcribe any questions that were posed by the judge, or any information from the shorthand during the live session.
Medical Transcriptionist
Becoming a medical transcriptionist is another career path that you can pursue as an audio typist. The medical industry uses complex terminology. This only means that you need to undergo proper training if you want to be qualified for this job position. During the training, you will learn how to use the machinery designed for medical transcribing. You will also be familiarised about medical billing records.
Although you need to undergo specific training, becoming a medical transcriptionist is very rewarding. The industry offers tons of opportunities, making job hunting easier for you.  You can apply for job opportunities to a wide a range of facilities, including medical clinics and hospital. Furthermore, the credits that you will get from the training is accredited, which you can use when you pursue a course in college.
Freelancer
If you want to have a flexible time and don't want to be bothered by a boss, then you can work as a freelance audio typist. There are other service providers aside from legal agencies and medical facilities that need audio typing services. Most of them outsource audio typing jobs to freelancers, since this method is more cost effective. There are also online freelancing directories, such as oDesk and eLance that can help you find an audio typing job.
As a freelancer, you need to have the basic equipment. This includes tape recorders, high quality headset, audio tapes, and other devices. You may need to have a computer along with a compatible software if you are planning to transcribe audio files that are in digital format. As long as you receive good feedback from your jobs, you can have a lucrative job as freelance as a freelance audio typist. Furthermore, freelancers are paid on an hourly basis.
If you haven't decided yet what career path to take, then you may decide to become a professional audio typist. Many industries and facilities are in great need of audio typing services, making it easier for you to land on a job position when you look for one. Moreover, the pay is good.
Danice Smith is a freelance writer who has been writing about audio typing service for his readers to understand the concept. He's been blogging for 6 years and is passionate about music and badminton.