For our parents' generation applying for and getting approved for a mortgage was a fairly straight-forward process. They went into a bank, laid out their income, assets, and liabilities, a loan officer let them know how much they could be approved for, and voila!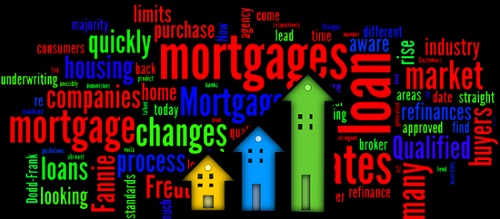 But in today's lending world it seems like changes come around so quickly that the lay man can hardly keep up, especially in the wake of the collapse of the housing bubble a few years back. And from brokers to resellers to traditional banks, there are so many players in the mortgage game that sometimes buyers aren't sure where to turn.
Now that the market has stabilized and is on the rise, a lot more people are looking to mortgage companies to help make their dreams come true. I talked with Paul Joseph, who was a mortgage broker before joining family real estate agency in the Florida Keys.
"If you're thinking about borrowing for a home today there are a few changes and trends in the industry that you will want to be aware of," Joseph said.
2014, the Year of the Qualified Mortgage
The start of 2014 brings about the implementation of the Qualified Mortgage. A Qualified Mortgage is a result of the Dodd-Frank Act passed in 2010. The Dodd-Frank Act aims at reducing the likelihood of another housing meltdown by helping to ensure that loan recipients do not undertake loans that they are unable to pay back.
The QM rule fundamentally specifies new categories of mortgages and enforces minimum underwriting standards for most home loans. These standards are referred to as the "ability to repay requirement," said Joseph, broker for Key Colony Beach Realty.
The Qualified Mortgage will take many non-traditional mortgages out of the market. The majority of lenders will no longer offer no-documentation, interest only, or negative amortization loans.
These new rules will affect clients in several different ways. Customers looking for a traditional mortgage will find the process more streamlined and possibly with lower fees, but those who do not qualify for a straight-forward loan will find that there are less choices available in the market and that underwriting guidelines for jumbo (and all other non-QM) loans will be far more stringent.
Rising Rates and their Effect on the Refinance Market
Recent years have seen historically low interest rates across the board as the Fed looked to assist the housing market in its recovery. Now that the economy is more robust, we're seeing that these rates are slowly creeping up.
There is a side-effect of rising rates that many consumers are not aware of. Sure, a higher monthly payment is definitely a bummer, but higher rates can potentially lead to a drop in customer service as well.
What happens during periods of lower rates is that many companies focus more on the refinance market and not on purchase mortgages. These companies tend to work more on volume, trying to process as many refinances as they can as quickly as possible. So, when rates rise and the number of refinances diminishes, these companies are left with no choice but to quickly try and adapt and move into purchase mortgages.
The problem is that the processes for refinances and purchase mortgages are very different, and so often staff that has been trained to deal with refinance paperwork are not prepared for new purchases. Purchase mortgages are more complicated and more importantly are set with strict deadlines and a specific closing date.
If a lender does not complete the loan in time, this can lead to serious problems for the buyer. As rates rise, new buyers need to be aware of this fact and ensure that their lender has the experience necessary to quickly and accurately process their loan on time.
Modifications with Fannie and Freddie
The last change we want to look at is the expiration of the FHA loan limits. In 2014 the loan limits for Fannie and Freddie mortgages are most likely going to drop. Currently, the maximum loan is set at $417,000 in most of the country and $625,000 in more expensive areas such as coastal California, Hawaii, and some metropolitan areas like New York and Washington.
Edward DeMarco, the Acting Director of the Federal Housing Finance Agency (FHFA), which oversees Fannie and Freddie, has not released any specifics to date, but industry analysts predict that the limits will drop to $400,000 and $600,000 respectively.
While these changes may not affect the majority of home buyers, some buyers that would currently qualify for a traditional loan will be forced to look into jumbo options.
There is much debate as to what role the government should play with regards to housing and mortgages, with some people calling for Fannie and Freddie to be shut down. Regardless of the outcome of such debates, there are sure to be more changes coming down the pipeline and consumers who are looking to apply for a new mortgage in the coming year ought to stay abreast of the changes in the industry.
Helpful resource:
By M.-J. Taylor
The writer, M.-J. Taylor, is a former Realtor and now lives in the Florida Keys and writes on real estate related topics.