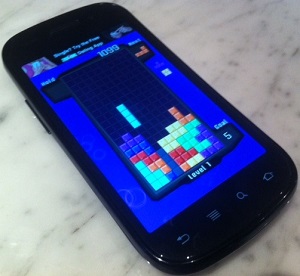 A few decades ago, video games were confined to the arcade. Soon the home console revolution came, and gamers could rack up high scores in the comfort of their home. Now a third revolution is disrupting the industry — mobile gaming. Thanks to powerful new smartphones and tablets, gamers can enjoy console quality gaming on the go, forever freed from the constraints of the home or the arcade.
"With the mobile space projected to keep growing at a furious pace, gamers will have a multitude of great choices to enjoy in the years ahead," said Jason Hope, mobile expert. "And as processor speeds rise and hardware continues to improve, mobile games will continue to become more powerful and refined."
Let's look at ten of the best mobile games available for the Android platform.
Tetris
Let's start with an oldie but goodie. Tetris is the mother of all puzzle games, a fascinating and elegantly designed classic that has lost none of its playability over the years. Best of all, developer Electronic Arts offers this app for no cost. Download this enduringly popular game of colorful falling blocks and prepare to lose hours of time — just like you probably did in your childhood.
Scramble With Friends/Words With Friends
Players with fast fingers and large vocabularies will rise to the top of this Boggle-like word game from Zynga. Scramble with Friends, and its Scrabble-like sister game, Words With Friends, are both supremely addictive. A built-in social component improves the fun, allowing for instant messaging — and perhaps a little in-game "smack talk."
Meganoid
If you're looking for a retro-looking 8-bit platform game, look no further. Meganoid combines 1980s aesthetics with tremendously fun gameplay. The puzzles and levels get progressively more difficult, making this game a true challenge that repays multiple plays, a great choice for gamers looking for a bit of nostalgia. And after completion, a sequel, Meganoid 2 awaits.
Bad Piggies
Created by developer Rovio, the minds behind global phenomenon Angry Birds, Bad Piggies offers a twist on that ultra-successful formula. Gamers must build cars, planes and other objects to pilot the pigs toward their goal — capturing bird eggs. The game is cute, clever and packed with 170-plus levels. It also offers a great example of well-designed in-game physics.
Cut the Rope: Time Travel
For players who loved the popular original, Cut the Rope: Time Travel offers more fun along the same lines. Players must feed two monsters by cutting ropes. It sounds easy, but can become incredibly challenging. This latest version takes players across time and to locations such as ancient Egypt and the Stone Age, freshening up the classic original game with a bright new twist.
Candy Crush Saga
No top mobile game list is complete without a nod to the juggernaut that is Candy Crush Saga. Arguably the most popular and addictive mobile game ever designed, this colorful hit allows players to crush their way through 400 levels. It's easy to get the hang of, but can be very challenging at more advanced levels. At this point, the game is such a cultural phenomenon it's almost obligatory to play it.
Solitaire
People who love the card game Solitaire will love this well designed take on the classic card game. Developer MobilityWare offers the app as a free download. The graphics and gameplay make the experience a pleasant one. This is the best Solitaire game available for Android.
Pou
For those seeking a fun game perfect for the younger crowd, Pou is worth a look. Much like the old electronic Tamagotchi pets, gamers must feed Pou to keep him alive. He can also be customized with hats, glasses and other gear. Cute, clever and a great way to keep kids occupied for hours.
Juice Cubes
Another clever game from Rovio, Juice Cubes is a puzzle game that allows gamers to create fruit bombs while cavorting with mermaids, pirates and witches. Like any good puzzler, the game is easy to pick up but pretty difficult to put down — and even more difficult to master.
Glow Hockey
Who doesn't love a good game of table hockey? Add in glowing neon colors and you have Glow Hockey, a fast and furious take on the classic table game. The physics seem true to life and the app offers multiplayer and several difficulty levels.
About Author: Amy Taylor is a technology and business writer. Amy began her career as a small business owner in Phoenix, Arizona. She has taken that knowledge and experience and brought that to her unique writing capabilities. She really enjoys new business related issues that are tied directly to technology.