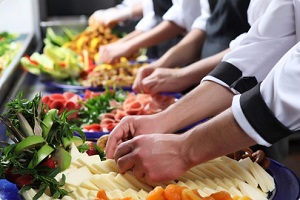 During the wedding planning process you chose what you thought was the caterer of your dreams. The food tasting was delicious. The price was right. The caterer said they had dozens of successful weddings under their belt. You book them for your wedding. Here's some wedding advice for you: pay attention to the catering contract.
Catering contracts can be fairly standard from caterer to caterer, but there are some provisions that you need to make sure are detailed. The parties involved should understand what is expected of them. Review the contract before putting down a deposit. Doing so well help prevent any initial misunderstandings and gives you the opportunity to ask questions about anything that may be unclear.
What Should A Catering Contract Include?
The contract should list whether or not your caterer has liability insurance. It is perfectly acceptable to ask for proof. If you are a caterer, consider getting a general liability policy and a specific incident policy for maximum protection. These policies help cover claims from something as simple as a broken tooth to accidentally breaking someone's fine china worth thousands of dollars.
The contract should specify the payment details. What is the payment schedule? Is the deposit refundable? Is there a last date for cancellation? If you cancel within the allotted time frame, will you receive a refund of any monies paid? These are all terms that should be explained in the contract.
If your wedding will have alcohol, the catering contract for your wedding should specify the types of alcohol that will be served. Verify that your caterer holds an active liquor license. Other considerations include when the alcohol will be served, how many bartenders will be available, and whether or not you will supply your own alcohol.
The menu should be specified in the contract as well. This should include the number of courses, the menu for each course, all special arrangements, information about the wedding cake, and any additional fees. Additional fees may occur for cake cutting, serving, and preparing the cake for freezing.
Defining A Catering Service
Service is an important and often misunderstood aspect of the catering contract. You may have expected a sit down meal for your wedding reception, but you signed a contract for buffet style service. This is an area that you should read carefully. If you do not understand the terminology or the differences between types of service, ask your caterer or wedding planner. Another important aspect of service is how the service staff will dress for your wedding reception.
Cost is an important factor. We all want to know that we get the best service for the price. The catering contract should break down the cost for each guest (adult and child), any total cost of rented equipment, the maximum price you are willing to pay for specialty items, and the estimated total cost of your wedding reception. This will minimize any unwanted financial surprises.
Enjoying Your Wedding Catering
This is not meant to be an all-inclusive list of catering contract provisions. A thorough Internet search or speaking with a wedding planner about catering can help you with your research. If you believe that a breach of the catering contract has occurred, you can speak with an experienced attorney who practices in contract law. They can advise you of your rights.
Robin is a writer for The McMinn Law Firm, a business and personal injury litigation law firm in Austin, Texas. Robin remembers how hectic planning her wedding was.