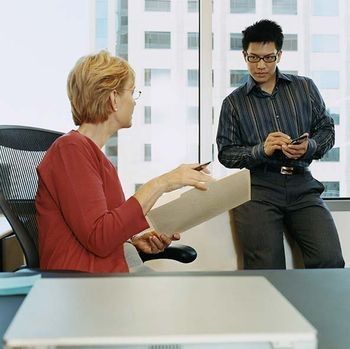 It is true to great extent that efficiency of any organization depends on its managers. It is because managers are liable to play an important role and fulfill some important duties as far as accomplishment of the various projects running in an organization is concerned. They have to fulfill the most important duties in an organization. Managers have to lead others working under them so that the work may be done in an apt and most fruitful manner. This in turn has a positive effect on the efficiency and productivity of the organizations.
Let us now discuss some points in details which further confirm this point.
Setting up of objectives- Any organization works on the basis of some objectives which need to be achieved by all the employees in the form of a team. These objectives prove to be steeping-stone towards success and productivity of the organization as these are the basics or foundation of any project. It is the duty of the managers to set and define objectives in such a way that these are easily as well as most efficiently followed and achieved by the workers in the organization. This way manager has an important role to play in efficiency of the organization.
Recognition of individual skills and assignment of duties- Since there are various tasks in an organization and these can't be completed by a single person only therefore it is important that different tasks may be assigned to different employees according to their individual capacities or capabilities. And this task is well-accomplished by the managers. The mangers have to recognize skills and capabilities of various employees working in the organization and assign tasks to them accordingly. It helps in accomplishment of these tasks in an efficient and better manner. Automatically, the productivity of the organization is increased.
Feedback from the workers and to the senior management- A manager is responsible for getting proper and timely feedback from the workers or employees working under him and for providing the same to the senior management. It is helpful in making necessary improvements wherever necessary at right time so that the final output is up to the mark or as per expectations of the customers or end-users. Hence manager becomes a central and important person who has a great contribution in the productivity of the company.
Interaction with all concerned with the organization- A manger has to communicate with all concerned with the organization including employees, customers, sponsors or senior management. It helps in sorting out any conflicts within the organization or with the outside sources. For any organization to be efficient in its fields it must run smoothly and it is possible only due to effective communication skills of the mangers.
Cost cutting and profit-earning- A manger has to make all possible efforts to cut down the costs incurred by the relevant organization to the minimum so as to increase the profits. It is done by most profitable and intelligent utilization of the available resources and by avoiding unnecessary costs. In other words, manager contributes to great extent in making an organization efficient and productive.
Anyone can become a good manager by getting proper training in a useful project management course such as prince2 training and help his/her organization to become successful.