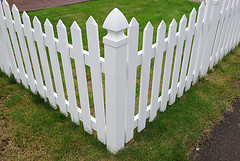 When you are landscaping your home, chances are good that some type of fencing will be involved. Whether you are defining your yard, creating a space for children and pets to play in, or just adding a little visual interest, fencing is a fantastic way to make the outside of your home your own. This brings us to the subject of materials.
There are lots of choices for fencing materials, including wood, metal, bamboo, and vinyl. While vinyl isn't necessarily the first material one thinks of when looking for a cost-effective enclosure, it can actually end up saving you money in the long run. Here's the lowdown on vinyl fencing and why you should consider it for your next fence.
Cost Effectiveness
No doubt about it, vinyl fences require more of an initial investment than traditional wooden fences. That being said, though, vinyl is extremely durable and virtually maintenance free once installed, making it the best cost saver over time. While wood may rot or warp and metal may rust, vinyl fencing is designed to last for decades without fail. If you can afford the initial investment, you will wind up saving money year after year by avoiding costly repairs.
Vinyl Fencing Advantages
In addition to being durable and easy to maintain, vinyl fencing offers several other advantages, as well. Because it is made of a type of plastic, a vinyl fence has a certain degree of flex to it. This can be very beneficial in areas prone to wind and storms, allowing it to give a bit without breaking.
Vinyl fencing is also quite attractive; it can be embossed to look like wood for wood fence lovers who don't want the hassle of wood maintenance. Furthermore, vinyl fencing holds its color, eliminating the need for priming and painting each year. Parents and pet lovers can feel confident that their vinyl fences are non-toxic and free from hazardous varnishes or coatings that may be harmful if ingested.
Vinyl Fence Styles
Just like wooden fence varieties, vinyl fences are available in a variety of styles and colors. For traditional home enclosures, you may choose a picket fence style that resembles wood. Tall privacy and semi-private fence styles are perfect for defining backyard areas and preventing nosy neighbors from seeing what's going on in your property. Vinyl pool fences keep children, animals, and unwanted visitors out of the pool area, providing safety and security.
Finally, horse and livestock owners can choose vinyl horse fencing that has the look of traditional wooden rail fences. While white is the most traditional and widely available vinyl fence color, other options include blues, grays, browns, reds, and even darker colors. There are also many different textures from which to choose.
As you can see, vinyl fences have a lot to offer in terms of style, durability, and even affordability when examined over the long run. Homeowners will enjoy the fact that once they recover their initial investment, vinyl fences will more than pay for themselves over time. This fact alone makes them an excellent alternative to wooden or metal fences.
I'm Geoff Leary, a freelance writer in Upstate New York. I once wanted to build rocket ships, but writing takes me farther. I aim to take action & make inspiration while writing about a range of topics, just to keep things interesting. Find me on Twitter: https://twitter.com/LearyGeoff