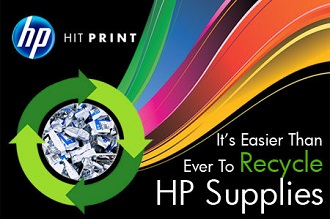 HP boasts of its own recycling programme for printers which has the global company collecting used products such as printers for recycling and resale, in over 70 countries and territories around the world. Below is an overview of how the HP Recycling Programme works.
Trade In Your Printer
HP customers are able to trade in used printers and other equipment for credit toward new HP products. For instance, you may trade in any brand or IT asset of any quantity at HP. This way, you will be putting older equipment to good use by extracting its value, which will go towards enabling you to purchase your brand new HP printer or other solution.
Donate Unnecessary Equipment
It is also possible to donate HP printers and other equipment that you do not require to a school or charity. In the United States, for example, HP has partnered with the National Cristina foundation to offer a platform through which customers can donate their unneeded equipment to charitable causes.
Reuse & Recycle at HP
Through its take-back programs with a broad geographical coverage, HP offers environmentally responsible options for processing products such as printers at the end of their lifespan. The company verifies the quality of its global recycling network through third-party vendor audits. When available, the company will increasingly rely on third-party recycling certifications.
Third Party Programs
Specialist third-party companies provide programs for reuse and recycling on behalf of HP. HP requires that all its recyclers process the material in accordance with best practice and in full compliance with relevant regulations. HP has continued to evaluate the expansion of its product take-back programs into additional countries.
However, this is dependent partly on the availability of local recyclers who are able to meet HP's standards or export regulations allowing for legal transportation of materials to recycling facilities in a different country. In addition, the company continues to strive at capturing a larger quantity of e-waste through partnerships with major retailers in various locations.
Whenever a customer returns their hardware products such as printers, the priority of HP is to determine the best recovery solution for the returned item. Equipment with a resale value will preferably be refurbished and resold, as this is the option with the least impact to the environment. When reuse is not viable, the company will extract as much value as possible from the printer by breaking it down and thereafter recycling its constituent materials.
HP began recycling hardware in 1987 and since then has recovered more than 2.3 billion pounds of products for recycling and reuse. The company is able to assist in extending the life of IT hardware through remanufacturing programs, reducing environmental impacts, as well as making IT equipment accessible to an increasing number of people.
HP also recycles products such as Designjet printers that may no longer be suitable for reuse. As part of its closed loop recycling process, HP reduces printer parts to raw materials that can be used in making new metal and plastic products.
By Sarah; an article writer interested in topics related to Designjet printers such as the associated recycling programme