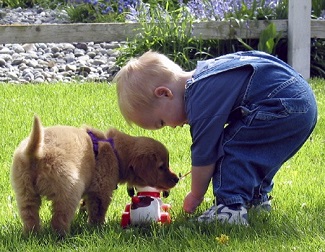 For most people a pet is a great cuddly companion to love and hug and play with. Many consider pets to be a part of their family, and there is no denying the immense love that one can have for their furry friends. While we've always known how amazing animals can be (think police dog if you will,) pets are once again breaking barriers and showing the world just how important they really are.
This time it is through education that pets are making such an impact.
Human/Pet Interaction
Some people, however, have never been able to experience the love of a pet. They've never owned a pet for one reason or another and haven't been able to understand this special bond firsthand. Introducing pets into their life can be a great way to help them in their education endeavors, and there is certainly many ways this is true. Teaching a child how to love and care for a pet enables them to learn plenty about empathy, sympathy and compassion for someone else. It helps them understand what it takes to care for a pet.
Introducing Pets Inside the Classroom
Since children, whether they've been able to own a pet of their own or not, usually take well to animals, teachers and school systems around the world are introducing pet into the classroom, and so far this seems to be making a positive impact everywhere that it is tried. From elementary schools to high schools and sometimes even college, pet interaction is making a difference, and it is an impact that educators and parents alike can appreciate.
It isn't only agriculture class that is using animals and pets for their students. Using pets to help children learn is something that works for all subjects. Wondering how?
A Math classroom working on fractions can use blue birds and red birds to visualize their numbers and make it easier, much easier than the old 'pie' system many of us used as youngsters.
Aside from dissecting a frog the Science classroom is yet another that can use animal interaction to help the students learn more easily and with much more excitement.
A fish aquarium is a delightful addition to the classroom and one that also makes it easy to teach children a variety of lessons.
English classrooms have a plethora of ways to use a pet and intertwine it with the lessons being taught.
Relating to Children
When you can relate to a child and teach them through things they find of interest you can really make a huge impact on their life and their educational abilities. Animals are one of the best learning tools out there. They provide immaculate benefits to every classroom that chooses to integrate them into their platform.
No More Boring Class time
One of the biggest pitfalls that teachers face is boredom in the classroom. Kids are easily bored especially when it is things like Math and history they're learning. Having a pet in the classroom certainly makes it easier to teach children and have their full attention. It eliminates boring lessons and encourages student participation.
More to Learn
Children can learn so much from pets inside of their classroom. Those things include:
Empathy
Caring
Sharing
How to take care of an animal
No more boring class time
And these are just the start of the many impressive benefits offered when pets are used in the classroom.
The numerous benefits of enhancing a student's education are extensive when a pet is tool that is being used. Children can learn so much from pets, inside of every classroom.
This article is contributed by Priya N who is a blogger at http://getsarkarinaukri.co.in/. She writes about government jobs, career tips etc.